Top 10 best family SUVs 2023
There are so many family-size SUVs to choose from, so we've listed the 10 best family SUVs to buy now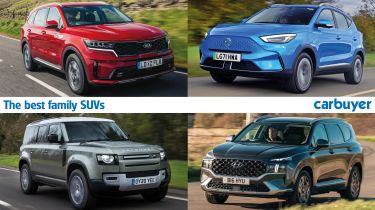 There's no real definition of a family car – you could argue that superminis, hatchbacks, saloons, estates, MPVs and SUVs are all up to the job, depending on your specific requirements. But demand for 'family SUVs' has exploded in recent years, and now there are a huge number to choose from.
Family SUVs have overtaken MPVs as the default choice for many buyers. SUVs still offer most of the practicality of a people-carrier, but with a higher driving position and a rugged look, both of which appeal to a huge number of people.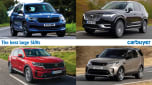 Top 10 best large SUVs 2023
SUVs are often thought of as big and expensive to run but that's often not the case with modern ones, thanks to the wide range of efficient petrol, diesel, hybrid, plug-in hybrid and fully electric SUVs on offer.
If you're one of the thousands of buyers looking at family SUVs, you've even got a choice about the number of seats it'll have. Most come with five seats and a big boot, but there are a number of seven-seat options if you need them. These cars offer the versatility and choice between using the space for passengers or bulky cargo.
We have plenty of other guides you'll be interested in if you need a family car. Read our lists of the best large SUVs, best used seven-seaters, best MPVs and best family hatchbacks. Continue reading to find out more about the best family SUVs on sale:
The Hyundai Tucson is not only our favourite family SUV, it also won the title of best family car overall in our Carbuyer Best Car Awards 2023. The latest Tucson is bigger than the older car, meaning it's more spacious inside for passengers than ever before, and its boot measures an impressive 620 litres in standard models. This shrinks slightly if you go for one of the hybrids – the least space you'll get is the 558-litre boot in the plug-in hybrid version. Don't let that put you off though – it's still very competitive, beating the 526 litres offered in the Ford Kuga and the boot space of the Skoda Karoq, which ranges between 479 and 588 litres depending on the powertrain. 
The interior is more upmarket than ever in the latest Tucson, and if it weren't for the Hyundai badging, you might even mistake it for that of an Audi. It's well-built with quality materials that make it feel sophisticated. You get a tablet-style 10.25-inch infotainment screen with Apple CarPlay and Android Auto as standard, as well as a digital dash. The Tucson's interior really proves that Hyundai is no longer merely a budget brand.
The Tucson really does deliver on a lot of fronts because it's good to drive, too. Entry-level petrol models get a 148bhp 1.6-litre engine with front or four-wheel drive. The mild-hybrid models make either 148bhp or 178bhp and are a little cheaper to run thanks to the assistance from a 48-volt motor. There's also a full-hybrid model with a combined system output of 227bhp that'll be even cheaper to run, and a range-topping plug-in hybrid with 261bhp which will be cheaper to run still – low CO2 emissions and BiK rate will make this the right choice for company car buyers. Plus an electric range of around 31 miles.
Seven-seaters tend to be quite expensive, as they're bigger and sometimes come with more features than five-seat SUVs. While the Kodiaq isn't cheap, it is good value-for-money. It doesn't get its impeccable score from just its value alone, though. It's well-built and feels like it'll easily stand up to the rigours of family life, and the interior space in the front and middle rows is excellent. The rearmost seats are suitable for children, or adults on short trips, and when you fold them down you've got access to a truly gargantuan boot.
Partnership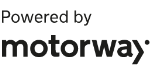 Need to sell your car?
Find your best offer from over 5,000+ dealers. It's that easy.
All Kodiaqs get the essentials and much more besides, but we think the lower trim levels provide the best balance of price and equipment. The 148bhp diesel engine is more than adequate power-wise, while managing up to 48.7mpg - a decent figure for a car as big as this one. There's a driving position akin to a Range Rover's, and the Kodiaq is far better to drive than you'd expect.
Although Nissan's Qashqai family SUV has long been a favourite among UK buyers, the Nissan Ariya now offers a fully electric alternative to the family SUV formula. We gave it our award for Best Large Electric Car, and it was thanks to its spacious cabin, impressive electric range and clever features – all attributes that are important in a family car.
The Ariya's interior is quite simply a class-leading – it feels much more upmarket than Nissans of old, with luxurious touches such as wooden trim, and two 12.3-inch screens mounted side-by-side on the dash, making up the infotainment screen (compatible with Apple CarPlay and Android Auto) and digital gauge cluster. The Ariya's flat floor means there's plenty of legroom for rear passengers, and the 466 litres of boot space in the single-motor variant will be adequate for most buyers. While the added weight and stiffer suspension of most EVs mean they're less comfortable to ride in, the Ariya does a notably good job of absorbing most bumps in the road smoothly and its electric motor is quiet. You'll get up to 250 miles of range from the entry-level 63kWh battery version or 310 miles from the 87kWh battery variant according to Nissan, which will be enough for most families.
While it may be just off the podium on this list, the Kia Sorento won Carbuyer's Car of the Year in 2021. It's only dropped slightly because of a raft of stiff competition since, and the discontinuation of some of the great value entry-level models. It offers excellent practicality, efficient engines and a great-quality interior.
The Sorento is a great choice for larger families thanks to its seven-seater configuration. All passengers get to ride in comfort, too, with every passenger getting access to their own cup holder and USB charging point – that should keep the kids quiet. Boot space is generous, ranging from 616 litres in the standard diesel and shrinking slightly in hybrid versions – the plug-in hybrid version's boot is reduced to 604 litres. Buyers can choose between a 2.2-litre diesel Sorento, a 1.6-litre turbocharged petrol hybrid, and the range-topping 1.6-litre turbocharged petrol plug-in hybrid – this will be the cheapest to run for company car drivers and offers an electric range of over 30 miles for shorter trips around town.
The Skoda Enyaq iV is an impressive family-friendly electric SUV that offers plenty of space, versatility and great value for buyers. Again, thanks to the EV's flat floor, passengers get plenty of legroom, and the practicality expected of Skoda is present in the Enyaq iV, with its large 585-litre boot.
Entry-level Enyaq iV 60 models get a range of around 250 miles – while this will be plenty for most buyers, there's also an Enyaq iV 80 model which increases this to around 340 miles. The Skoda Enyaq iV 60 and 80 models get 177bhp and 201bhp respectively from an electric motor sending power to the rear wheels, although an Enyaq iV 80x model introduced later offers a dual-motor four-wheel drive setup increasing power to 262bhp. The Enyaq is by no means a sporty car to drive in any guise, but even the single electric motor variants deliver enough power to make it relaxing to drive in town or on the motorway.
The Hyundai Santa Fe is another seven-seater on this list and a car that can take everything a larger family can throw at it. A facelift in 2021 meant the Santa Fe was repositioned as slightly more upmarket than before, getting a tweaked new look and new technology as well as improved hybrid powertrains for greater efficiency.
Admittedly, the Santa Fe's weak point is driver appeal, but really Hyundai's largest SUV is designed to be driven in comfort and with ease, which it does well – body lean is surprisingly controlled and the Santa Fe feels secure and grippy. The Santa Fe can be had with a 190bhp 2.2-litre diesel engine, as a petrol hybrid, or plug-in hybrid model. The hybrid uses a 1.6-litre turbocharged petrol engine paired with a 59bhp for a total output of 227bhp and the plug-in hybrid gets the same petrol unit paired with a 90bhp motor for 261bhp. The plug-in hybrid is the best option for company-car buyers due to its lower CO2 emissions and BiK rating, and can do up to 36 miles on a charge according to Hyundai.
The MG ZS is one of the smaller cars on this list, but it's certainly practical for its size. It also perhaps makes more sense in fully-electric ZS EV guise as it's one of the more affordable electric SUVs on the market, and we found the standard ZS petrol engines rather tepid to drive anyway.
Entry-level versions of the MG ZS EV get 174bhp and a 51kWh battery capable of a range of up to 266 miles of city driving, or 198 on a combination of town and motorway driving. At the expense of a lower power figure of 154bhp, higher-spec Long Range variants get a larger 73kWh battery pack increasing city-driving range up to around 273 miles or 370 miles on a combined cycle, according to official figures. Boot space is good, with 470 litres on offer, which should be enough for most families. Interior quality is not the best, but that's to be expected for such an affordable EV, and the MG ZS EV will appeal to budget-conscious buyers looking to benefit from the low running costs of an electric SUV.
We really like the breadth of choice offered by the latest BMW X1 – it's available as a diesel, mild-hybrid petrol, plug-in hybrid or even a fully electric model, known as the BMW iX. It sits on the more premium end of the family-car scale, but if you're not put off by some of the more expensive models' price tags, the X1 is an undeniably versatile family SUV.
The BMW X1 has a 540-litre boot which is 50 litres larger than the old car and over 100 litres bigger than that of the XC40. One of the biggest selling points of the latest BMW X1, though, is its incredibly plush and upmarket interior featuring plenty of high-quality leather materials, plus two large, curved infotainment screens dominating the dashboard. Another standout to the BMW X1 is its class-leading drive, feeling more like a hatchback than an SUV, although this translates into a firm ride on higher spec M Sport models with larger alloy wheels. While the electric iX isn't quite as fun to drive as the petrol models, it's still one of the best electric SUVs on the market for keen drivers. The BMW X1 will appeal to those who don't want to compromise on driving feel when buying their next family car.
The latest Land Rover Defender had a tough job on its hand when it replaced the long-standing classic Defender a few years ago. Happily, the new Defender is great to drive on and off-road and adds a luxurious cabin to the recipe to help tick a lot of boxes.
There's quite a bit of choice in terms of engines – the Land Rover Defender can be had with one of two mild-hybrid 3.0-litre diesel models and there's also a 2.0-litre petrol engine as well as a 5.0-litre V8 petrol. Petrol engines can also come with varying degrees of hybrid tech, with a 3.0-litre mild-hybrid petrol offering, or the 2.0-litre plug-in hybrid petrol engine capable of up to 27 miles on a charge. The latter, badged the P400e, is the best choice for company-car drivers looking for an off-road-capable SUV for the family, thanks to its low CO2 emissions and BiK rate.
Peugeot's largest SUV, the 5008, is also its most versatile, with two extra seats compared with the smaller 3008 and the option to flip them down for a vast 780-litre boot. Leg and headroom is excellent in the middle row (although the optional panoramic sunroof cuts into headroom), and getting into the rearmost seats is not too difficult. Space back there is a little tight, like it is in many of its rivals, but adults should be able to squeeze in for short journeys. Fold the middle seats down and you'll have a van-like carrying capacity, although there are frustrating crevices between the seats that will swallow small items. 
The interior is beautifully designed. We think your passengers will be wowed when they're on board, and the only thing we'd change is having proper climate control dials instead of accessing the temperature settings through the touchscreen. You might expect a big seven-seater like this to cost a lot to run, but the most economical diesel engine can manage over 56mpg and even some petrol models will hit 45mpg.
Need something a little smaller? Check out our top 10 best small SUVs...
Top 10 best family SUVs 2023