BMW iX SUV review
"The BMW iX SUV boasts an impressive range and cutting-edge interior but is expensive"
Pros
Excellent range
Good to drive
Infotainment system
Cons
Polarising looks
Expensive
High boot floor
​The BMW iX is an important new model for the brand, spearheading a range of new all-electric cars that includes the sporty BMW i4. Unlike the X3-based BMW iX3, the iX is a standalone model designed from the outset to be electric, so it will never be offered with a petrol engine or as a hybrid.
It takes on cars such as the Audi e-tron, Jaguar I-Pace, Mercedes EQC and Tesla Model X - and isn't cheap, costing from around £70,000. It will, however, be more cost-effective to run than BMW's other large SUVs and top versions have a range that's even better than the Model X, thanks to BMW's latest motor and battery technology.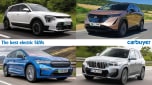 Top 10 best electric SUVs 2023
The line-up starts with the xDrive40, fitted with a 71kWh battery for a range of up to 257 miles. It can also be rapid-charged at up to 150kW when visiting compatible public chargers. Dual motors provide up to 322bhp for 0-62mph acceleration in 6.1 seconds. Sitting above this, the xDrive50 starts from just over £90,000 and packs a vast 105.2kWh battery for a class-leading range of up to 380 miles. Power also jumps up to 516bhp, getting the iX from 0-62mph in 4.6 seconds. At the top of the range, the flagship iX M60 storms in with a 611bhp powertrain, model specific styling and a range of up to 348 miles. It's one of the fastest-accelerating SUVs you can buy, and usually hides its weight well through corners too.
Even in the standard models, acceleration is almost vicious at low speeds and still impressive even on the motorway, but it's the cohesive way the iX drives that really surprises. A low-slung battery pack, stiff construction and well-tuned suspension help mitigate the 2.5-tonne weight and make the iX feel fun and secure to drive. Unlike the iX3, this doesn't appear to come at the cost of ride comfort because the iX xDrive50 we tested had smooth and supple suspension in its Comfort mode.
BMW has ditched its traditional dashboard layout for the iX, instead opting for a more minimalist approach. A flat floor with no transmission tunnel means there's now just a small, floating centre console between the driver and passenger. The dashboard itself is dominated by a wide display that spans from behind the steering wheel towards the middle of the fascia. This is running BMW's latest iDrive 8 software, with around 20 times the computing power of previous models. It feels expensive and more futuristic than other current BMWs; premium materials are used, and all the touchpoints are perfectly weighted.
A tall roof means there's also plenty of space in the front and rear seats for tall adults, making the iX a good choice for families. The boot has a fairly high floor, however, so its 500 litres is fine but not class-leading. There's also no frunk, like you'll find in the Tesla Model X or Ford Mustang Mach-E, but the iX can tow an impressive amount for an electric car.
While the price of more than £90,000 may seem extreme, the xDrive50 undercuts the Tesla Model X Long Range and beats it in some key areas. The arrival of an even faster and more expensive iX M60 version, with its six-figure price tag, shows that BMW has lofty goals for its all-electric SUV. You're unlikely to feel shortchanged, as the iX is an impressive showcase for BMW's electric technology and next-generation interiors.
Which Is Best?
Cheapest
Name

240kW xDrive40 Sport 76.6kWh 5dr Auto

Gearbox type

Auto

Price

£69,000
Most Economical
Name

385kW xDrive50 Sport 111.5kWh 5dr Auto

Gearbox type

Auto

Price

£95,880
Fastest
Name

455kW M60 111.5kWh 5dr Auto

Gearbox type

Auto

Price

£121,870