Top 9 most comfortable cars 2023
Bad back or just want a relaxing drive? We showcase the most comfortable cars on sale now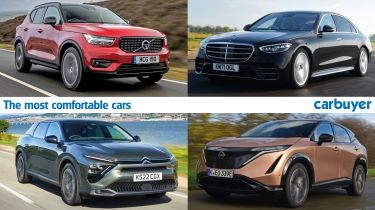 Tired of getting back aches after a long drive or feeling the jolts of the UK's pothole-filled roads going through your body? You should consider buying a car with a smooth, comfortable ride and supportive seats. While many manufacturers focus on impressive performance or styling, there are a few that do their utmost to make the most comfortable cars on the market, ironing out the bumps and blemishes to make you feel like you're gliding along on a cloud.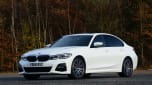 Top 10 best executive cars 2022
As cars get heavier due to weighty batteries and as a result of safety improvements, carmakers have to work ever harder to make their cars comfortable. There have been several technological advancements over the years to make cars smoother, such as soft air suspension which uses pressurised air to absorb big bumps and create a comfortable ride. Some even incorporate noise cancelling technology in the interior to dial out exterior noise, just like a pair of fancy headphones.
Our guide to the most comfortable cars you can buy details the models that'll transport you to your destination, feeling as fresh as you did when you set off. If you're looking for the finest in performance and luxury, why not check out our list of the best luxury cars on sale? If your budget doesn't quite stretch that far, our lists of the best small automatic cars and best motorway cars all showcase models that are relaxing to drive.
For now, keep reading for the most comfortable cars you can buy – split up into three price brackets.
Under £30k
Volkswagen Polo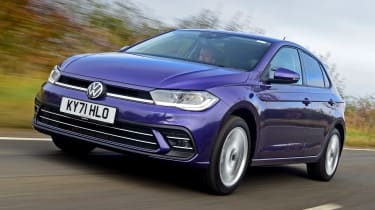 Many associate small cars with an unrefined drive and a barebones interior, however, the Volkswagen Polo feels just as polished as its bigger sibling, the Mk8 Golf, and comes with a plush, tech-focused interior. When equipped with the optional DSG automatic gearbox, the Polo wafts down the road like very few other superminis can, with supple suspension that prevents much intrusion from bumps into the cabin. 
Those looking for the most relaxing drive will be best off opting for the mid-spec 1.0-litre TSI petrol engine with the aforementioned optional DSG transmission – if you require a bit more poke, a more powerful 108bhp engine is also available and comes as standard with the automatic gearbox. Steer clear of R-Line cars as these come with a stiffer, sportier suspension setup; the Style trim should offer all most buyers could ever need, with an eight-inch touchscreen, digital dials and dual-zone climate control.
Citroen C5 X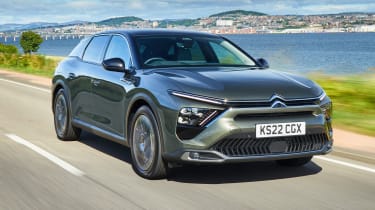 Citroen is renowned for making comfortable cars; the original Citroen DS was revolutionary with its hydropneumatic suspension setup. While the new Citroen C5 X isn't quite as revolutionary, it still comes with trick 'Progressive Hydraulic Cushion' suspension, which helps provide a cosseting ride. Partner this with the brand's 'Advanced Comfort' seats that have been filled with 15mm of high-density foam for an 'armchair-like' feeling, and the C5 X is one of the most relaxing mainstream cars you can possibly travel in.
If you can get past the C5 X's funky shape, you'll quickly realise it's a practical and spacious family car. Private buyers are best opting for the 1.6-litre petrol engine as it offers sufficient punch and feels less strained under acceleration than the entry-level 1.0-litre unit. Company car drivers – or those looking for the most refined drive – will be enticed by the even more powerful plug-in hybrid model. With 39 miles of pure-electric range, you can travel around for short distances in complete silence – adding to the car's already serene driving experience.
Skoda Octavia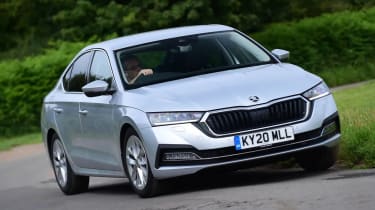 Our Carbuyer Best Estate Car for 2023, the Skoda Octavia is also available in hatchback guise and is one of the most comfortable cars on the market. The Octavia's interior is simple, yet smart and everything you touch feels of high quality. Skoda has also partnered with the German Healthy Back Campaign to develop the car's Ergo Comfort seats, which offer a wide range of support and can even be specified with a massage function.
Partnership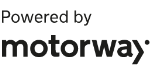 Need to sell your car?
Find your best offer from over 5,000+ dealers. It's that easy.
The entry-level SE model comes with a surprisingly high level of standard equipment, with digital dials, a 10-inch touchscreen, dual-zone climate control and rear parking sensors. Our pick of the engine lineup would be the 148bhp 1.5-litre petrol as it offers plenty of punch and is whisper quiet when on the move. If you'd rather not change gears yourself, the optional DSG automatic gearbox makes the Octavia even more relaxing to travel in.
From £30k to £60k
Mercedes E-Class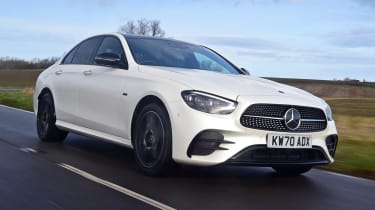 The Mercedes E-Class is famed for its comfortable ride and is used across the world as a reliable taxi and/or motorway mile-muncher. All versions of the current-generation E-Class come fitted with an adaptive damper suspension setup, which has multiple settings and allows the mid-size executive car to glide along the road in an unflappable manner when placed into its Comfort mode.
As you'd expect from a premium car such as a Mercedes-Benz, even entry-level models come well-equipped; however, we'd step up to the mid-spec AMG-Line Premium model as this adds things like heated seats and a 360-degree camera, to the already-impressive list of equipment that includes Mercedes' slick dual-screen MBUX infotainment system. The E 220 d diesel model is the most popular for good reason; it's smooth and offers a good blend of performance and fuel economy.
Volvo XC40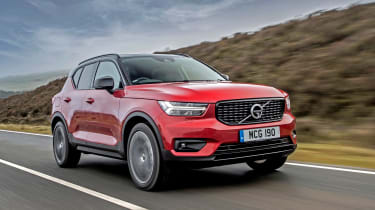 Volvo is renowned for making safe and comfortable cars and the brand's smallest SUV model, the XC40, is no exception. While some SUVs in its class – such as the BMW X1 – focus on providing a sporty hatchback-like drive, the XC40 aims to cocoon its occupants from the outside world and offers a plush, minimalist interior and supple suspension to soak up the majority of Britain's potholes. 
Buyers have the choice of either a 2.0-litre mild-hybrid petrol engine, or a 1.5-litre plug-in hybrid 'Recharge' model with up to 28 miles of electric range – unless you're a company car driver, we'd stick with the cheaper, yet still punchy petrol offering. There's also a fully-electric model (confusingly also given the 'Recharge' nameplate) which offers a range of up to 290 miles on the base single-motor model and 334 miles on the top-spec dual-motor car.
Nissan Ariya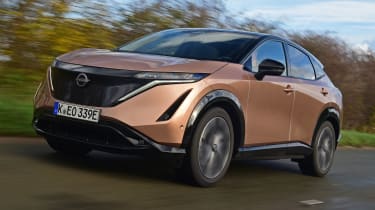 Our favourite Large Electric Car for 2023, the Nissan Ariya blends style and substance with its classy interior design and sublime ride quality. Particular highlights of the cabin include an illuminated wood dashboard, which only displays the car's touch-sensitive controls when the ignition is on. A power-sliding centre console allows you to prioritise foot space in the front or rear, allowing passengers to get as comfortable as possible.
If you spend most of your time driving around town, we recommend saving some cash and opting for the entry-level 63kWh battery model in well-equipped Advance trim; this still offers a decent range of 250 miles, although you need to step up to the Evolve model to get the aforementioned sliding centre console, as well as heated and cooled leather seats. Opting for the larger 87kWh battery increases the Ariya's range to 322 miles, turning the Japanese SUV into an ideal motorway cruiser.
Over £60k
BMW iX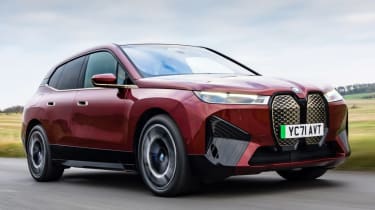 The BMW iX is impressively comfortable, especially given the fact that fully-electric cars can sometimes end up with harsh suspension to support the weight of the battery pack. In Comfort mode, the iX wafts along with a silky smooth feel, but even more impressive is the fact it can transform quite markedly in Sport mode, helping it feel planted and good to drive at the touch of a button.
Depending on the trim you choose, the iX will get you between 257 miles and a class-leading 380 miles on a single charge, according to official figures – making it an impressively capable premium electric SUV. It's minimalistic inside but thanks to the high-quality materials used, it feels very expensive – more so than many other BMW models. The iX isn't just one of the most refined EVs to ride in, it's one of the most refined cars on sale at any price.
Mercedes S-Class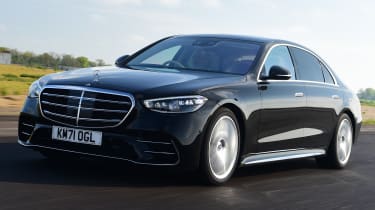 The undisputed king of chauffeur-driven limousines, the Mercedes S-Class offers a cornucopia of technology and comfort, all wrapped in a sleek saloon body. Sweeps of ambient lighting help set the mood of the cabin, while the optional Chauffeur Package folds the front passenger seat down to allow those in the back to stretch out – just like in First Class.
Available in Standard and Long Range configurations, as well as petrol, diesel and plug-in hybrid powertrains, there are several options available to buyers looking for a new S-Class. No matter which powertrain you choose, all offer a smooth driving experience, with a slick and almost imperceptible dual-clutch automatic gearbox. Rear-wheel steering comes as standard to aid manoeuvrability, while Mercedes' AIRMATIC air suspension helps soak up all but the largest of bumps.
Range Rover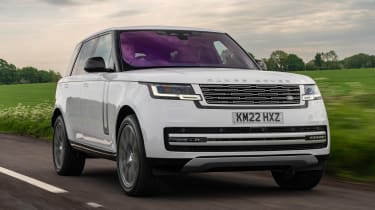 The Range Rover has undergone a huge transformation over its lifetime, from a comfortable, yet hugely capable off-roader to a lumbering luxury behemoth that's able to carry its pampered passengers anywhere – no matter the terrain. The latest Range Rover is perhaps the most luxurious and comfortable yet, with air suspension to filter out smaller objects such as potholes – even when specified with enormous 23-inch wheels – and a plush interior that puts even the Bentley Bentayga to shame.
For the most relaxing driving experience, opt for one of the plug-in hybrids; the ability to travel around in blissful zero-emissions silence for up to 68 miles adds to the feeling of serenity, while the combined output of 434bhp in the P440e offers a mountain of grunt under the bonnet. Four wheel steering is standard to aid the titanic SUV's manoeuvrability around town, while a 4.4-litre V8 with 523bhp offers the ultimate in 'point-and-squirt' performance.
Looking for something that feels special, but don't need a giant luxury car? Check out our list of the top 10 luxury small cars...
Top 9 most comfortable cars
Under £30k
From £30k to £60k
Over £60k