306bhp Volkswagen Golf GTI Clubsport S revealed
The most hardcore Golf GTI yet has been revealed ahead of a launch later this year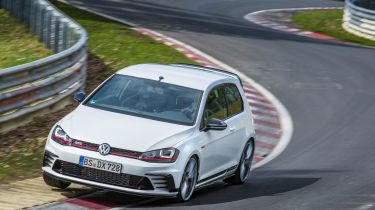 The Volkswagen GTI Clubsport S is the most driver-focused GTI yet. With more power and less weight, it is now the fastest front-wheel drive production car at the Nurburgring racetrack in Germany.
It features a tuned 306bhp version of the GTI Clubsport's 2.0-litre turbocharged petrol engine driving the front wheels. It takes just 5.8 seconds to accelerate from 0-62mph and onto a top speed of 165mph.
Volkswagen has removed the rear seats to save 30kg, taking the car's weight down to 1,360kg.
It also features a bespoke 'Nurburgring' setting in the car's Dynamic Chassis Control system which allows a more aggressive configuration for the car's steering and suspension.
The Golf GTI Clubsport S evokes memories of the original Golf GTI thanks to the red, white and black paint colour options. Inside, there are a pair of bucket seats, special 'Honeycomb 40' stickers and a Alcantara-trimmed steering wheel.
Outside, there are different front bumpers, a large roof spoiler and a rear diffuser designed to increase grip and downforce at speed.
The car has already posted a 7m 49.21 second laptime at the Nurburgring, making it the fastest front-wheel drive production car around the faous circuit. This is a second and a half faster than the previous record holder, the Honda Civic Type R.
Prices will be annouced closer to its launch date later this year, but we expect it to carry a £35,000 price tag - a little more than a Golf R with a few options. Just 400 will be made, with 150 making it to the UK, which will be the car's largest market.