Volkswagen ID.3 convertible under consideration
Electric VW ID.3 hatchback could spawn a cabriolet version if there's sufficient demand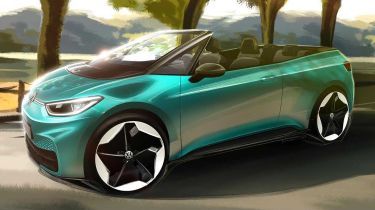 Would be the first four-seat EV convertible
Would use same powertrain as hatchback
Renders posted by VW CEO
A Volkswagen ID.3 convertible could be in the works, after VW bosses posted renders on social media. It's likely that the company is trying to gauge if there's sufficient demand before it greenlights plans for the car's launch in 2022.
If it makes production, the ID.3 cabriolet will become a two-door model, and the space for the folding soft-top will mean the boot lid will be chopped in half too.
The available boot space would clearly be less than you get in the hatchback - expect around 200 litres versus the 385 in the ID.3 hatchback already on sale. Because of the positioning of the roof mechanism, the ID.3 would become a four-seater too.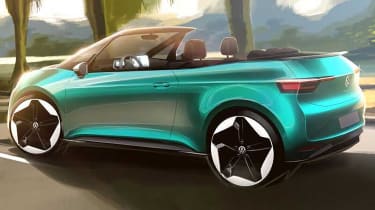 The ID.3 convertible would be the second drop-top in the VW line-up, sitting alongside the Volkswagen T-Roc Cabriolet. There's not much of a precedent for electric convertibles (the original Tesla Roadster and the Smart EQ ForTwo Cabrio are among the only ones), and we don't think the MINI Electric's powertrain is set to go in the MINI Convertible, so the fabric-roofed ID.3 would have few, if any, rivals. Then again, the T-Roc Cabriolet doesn't have any either.
Sitting on the same MEB platform as the hatchback, the Volkswagen ID.3 cabriolet would get a 58kWh battery and an electric motor with either 143 or 201bhp. We'd expect the convertible to be heavier than the hatch, which would likely mean a lower range than the 260 miles quoted for the existing ID.3.
Spec-for-spec, the convertible would almost certainly cost more than the hatchback and it's likely that Volkswagen would offer a limited trim selection because the convertible would be a niche product. The T-Roc Cabriolet, for example, is only offered in two trim levels, while the Volkswagen T-Roc SUV is offered in seven (not including the T-Roc R).
See where the Volkswagen ID.3 finishes on our list of the best electric cars.