Are electric cars cheaper to run?
How to work out if buying an electric car will actually save you money on running costs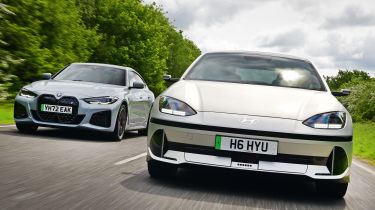 Electric cars have many obvious benefits, including how quiet they are, impressive performance, the fact you can pre-heat and cool them in extreme weather and excellent reliability. 
Yet one of the main reasons people choose to buy an EV – alongside a desire to limit their environmental impact – is to reduce their car's running costs.
How realistic is that, though? With both fuel bills and electricity costs soaring in recent years, running a car has become more expensive than ever, so if you're thinking of making a change it's important to do some calculations before you commit. There could be hidden costs you've not considered, so we've put together a quick guide that illustrates how much it costs to run an electric car next to a petrol one.
We've included some real-world examples and also explained the sort of things you should be thinking about if you are considering buying an electric car. You can find out more about which EVs we recommend in our articles on the top 10 best electric cars and top 10 best small electric cars.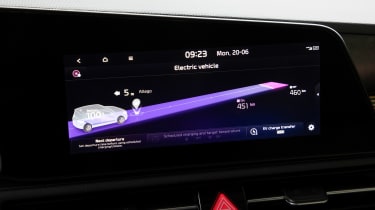 Cost of buying an electric car
How much your car costs to buy is one of the most important things to consider. Electric cars tend to cost significantly more to buy than their petrol equivalents, and if you set aside the environmental impact of using petrol or diesel and focus only on the financials, the money you spend on buying an electric car could pay for years and years of fuel.
For example, the entry-level Peugeot 208 costs just under £21,000 at the time of writing, yet the electric-only e-208 version in the same trim level costs just under £32,000. That's an £11,000 difference, so assuming you do 10,000 miles a year at the petrol 208's average economy of 55.6mpg, you could drive for more than a decade before you spent that amount on petrol (although that assumes petrol prices remain at current rates).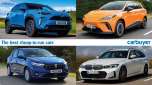 Top 10 best cheap-to-run cars 2023
Some electric cars are more affordable, or closer in price to their petrol equivalents, but as a general rule it's always worth taking the purchase price into consideration, especially if you're planning to pay monthly on finance.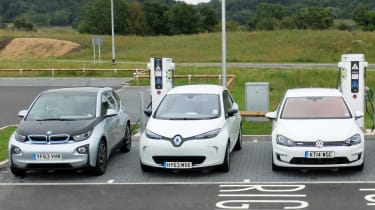 Electric car charging costs
Years of filling up have given most of us a sense of how expensive petrol and diesel cars are to run. Since electric cars are completely new to most people and some of the costs are hidden, usually in your home electricity bill, what you're paying is not quite so transparent.
Let's use the Peugeot e-208 as an example again. It has a 50kWh battery – if you think of that number as like a fuel tank size, it can help you to make sense of the costs. If your home electricity cost is 34p per kWh (the UK average right now), that means it costs £17 to charge a 50kWh battery from empty to full (34p times 50). 
If you put £17 of petrol into a 1.2-litre Peugeot 208 (11.6 litres at £1.47 per litre), you'd be able to drive for 170 miles. The e-208 is able to drive for around 220 miles on a single charge, so it's definitely more efficient than the petrol car.
Partnership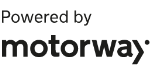 Need to sell your car?
Find your best offer from over 5,000+ dealers. It's that easy.
The cost-per-mile is a great way of working out what's cheaper to run. The e-208 costs 7.7 pence per mile, while the 208 costs 10p per mile. The difference between petrol and electric is greater with larger, less efficient models like SUVs: for example the Audi Q8 e-tron electric car has a cost-per-mile of about 11p, while the petrol-powered Q8 costs around 21p per mile.
If you can't charge at home, then you may need to rely on public fast chargers. At the moment, these cost roughly 70p per kWh, so filling the e-208's battery would cost £35. This is pretty much double the cost of charging at home and means the cost-per-mile is nearly 16p, which is more than the petrol 208.
It means that if you can't charge at home, then an electric car may cost you more to run than a petrol or diesel option even without taking the higher purchase price into account (see above).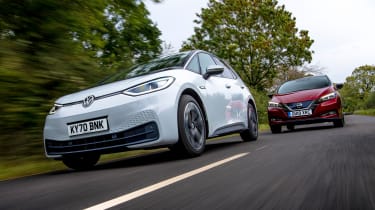 Electric company car costs
Until 2025, electric cars sit in the lowest Benefit-in-Kind bracket at two per cent, so they are much cheaper for business users. It's a very significant cost difference and means electric cars are a great option for company car buyers, as they could save thousands per year.
The e-208 costs standard-rate taxpayers £1,139 per year to run as a company car, while the e-208 costs just £126. Even at the lower end of the new car market that's a huge saving, and as the cars get more expensive, the savings increase even more. An Audi Q8 e-tron costs £277 to tax per year, yet the petrol Q8 costs a staggering £5,303.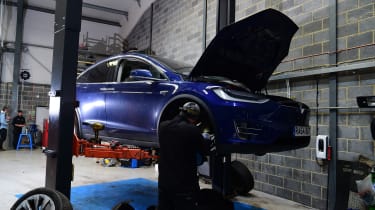 Electric car servicing costs
Electric cars tend to cost a little less to service than petrol or diesel cars, as there aren't as many fluids to change or complicated mechanical parts to check over. On the other hand, the brakes, lights and suspension parts, plus wheels and tyres, are the same as in electric cars, so there's no difference there for a garage carrying out maintenance. 
We checked the price for a service plan covering a petrol Peugeot e-208 for three years, and it came out at £677 – exactly the same as it costs for a petrol 208 of the same age. However, prices obviously differ from car to car and brand to brand. A Volkswagen Golf, for example. costs £480 for three years' servicing, while the ID.3 – a closely-related electric car also from VW – costs £360 for the same level of cover.
Longer-term costs will be significantly lower overall in electric cars. Since EVs use the electric motors to slow the car and recoup energy into the battery, brake pads and discs tend to wear at a slower rate, so you won't have to replace them as often. There's no clutch or timing belts to change further down the road, either. Electric cars tend to be heavier than petrol equivalents, however, so you may go through tyres at a slightly faster rate in an EV.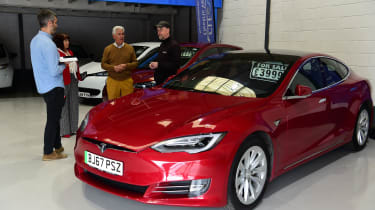 Other electric car costs to consider
Electric cars can often cost more to insure than petrol models. In the case of the Peugeot we've used as an example in this article, the basic petrol version is in insurance group 12, while the e-208 is in group 27 (with like-for-like trim levels).
This is partly because electric cars can cost more to repair right now (as there are far more places to repair a petrol car, and batteries can cost thousands to replace) and partly because electric cars tend to be quite a bit faster and more powerful than petrol cars, so insurers view them as higher risk.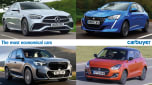 Top 9 most economical cars 2023
Until 2025 electric cars are free to tax, however. Petrol cars cost £180 per year to tax, with an additional £390 if they cost over £40,000 when new. There are different rules for older cars, which can cost hundreds more to tax each year. Hybrids cost £170, as there's a tiny discount for these 'alternative fuel' vehicles. It's something you can cross off your yearly bill with an electric car – for now.
Of course, you can also enter London's Ultra-Low Emission Zone (ULEZ) freely in an EV, and the Congestion Charge doesn't apply either. This is a significant saving for Londoners...
Now you've read about electric car costs, why not peruse our list of the top 10 best electric cars, and the longest-range electric cars available