Audi TT RS Coup
We drive the new Audi TT RS Coup
"It's a totally bonkers nut job of a fast car"
What is it?The Audi TT RS is a totally bonkers, mental nut job version of the TT. Under the bonnet is a five-cyclinder turbo engine reminiscent of the powerplant from the original Quattro. Only this engine has 2.5-litres and 340hp. Other changes for the TT RS include stiffer suspension, better brakes and some styling updates so that normal TT owners know their cars aren't so good.What does it look like?Pretty damn mean and definitely more butch in Coupé than Roadster guise. There are the usual RS cues – large oval tail pipes, massive front air intakes, 18-inch alloys and side skirts. And there's an in yer face massive RS rear wing which, unfortunately, kind of spoils the TT's cool smooth lines. Still, owners can always use it to rest on while filling out their inevitable speeding fines.
What's it like inside?Like all Audi TTs it's pretty lovely. However, the Coupé's interior is only available in black which does make it feel at bit like Darth Vader's bedroom. Brushed aluminium inlays help brighten it up, though, while the chunky RS-branded steering is nice to hold. The final addition is a special driver's information system which shows you turbo boost pressure and also has a lap timer for circuit use. Only car geeks will be interested in these.What's it like to drive?Pretty much the same as the Roadster version we tried last month (you can read that review here) only, predictably, a bit more rigid. Once again it's the engine that dominates. The 340hp unit has to be one of the best in the world. Let's start with the sound. It makes a glorious buzzing noise like an angry swarm of hornets although you don't get to enjoy it quite as much in the Coupé as you do in the Roadster.
It's got the performance to match. There's very little lag, although you can feel a noticeable increase in thrust from about 3,000rpm at which point the scenery really starts to go all blurry. Blink and you'll miss the first two gears. Anyway it's third and fourth where most fun is to be had because it's here where the engine's stomping 450Nm of torque really makes itself felt. And with every flex of your fight foot you get to enjoy the fabulous rasping exhaust note – although not as much as you can in the Roadster.
Make no mistake the TT RS is seriously, seriously quick. And most people could probably go faster in it on most roads most of the time than in a Porsche Cayman S. This is mainly down to the fact the TT RS's power is shared among four rather than two wheels. You can floor the throttle early out of bends without provoking the traction control system, even, as we discovered, in the pouring rain. This gives you the confidence to drive far quicker than you really should, even on unfamiliar wet roads.
The trouble is that while devastating fast, the TT RS's chassis is just nowhere near as precise or rewarding as the Cayman's. And, in true Audi style, the steering is a bit numb too.
VerdictThe TT RS is all about its amazing engine. Sadly the chassis doesn't quite match up. And this matters as the Audi pretty much costs the same as a Porsche Cayman S which, ultimately, is actually more rewarding to drive. Still if you only care about outright speed the TT RS Coupé may suit you better, especially if you have the need some rear seats.
Car Specs - Audi TT RS Coupé
| | |
| --- | --- |
| Engine: | 2.5-litre 5cyl, 340hp |
| 0-62mph: | 4.6 seconds |
| Top speed: | 155mph (limited) |
| Economy/emissions: | 31mpg/214g/km CO2 |
| Price/On sale | £42,985/Now |
We rate:Awesome engine Sounds great top up or down
We slate:Magnetic ride isn't standard Not as good to drive as a Cayman S
Rating:
Top 10 best cheap-to-run cars 2022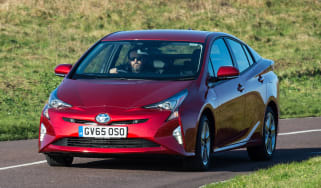 Top 10 best cheap-to-run cars 2022
UK road tax 2022: VED tax rates and bands explained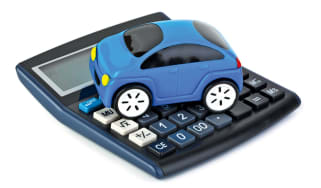 UK road tax 2022: VED tax rates and bands explained
Best new car deals 2022: this week's top car offers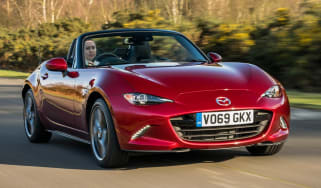 Best new car deals 2022: this week's top car offers