Lexus RX 450h review
This is the all-new Lexus RX 450h hybrid. Read our review to find out if it's finally an SUV with a clear conscience.
"Eco-SUV - is it finally possible with the RX 450h"
The third-gen Lexus RX 450h SUV boasts some impressive numbers. For a start, it's10 percent more powerful than the outgoing RX 400h. The 3.5-litre V6 and its accompanying electric motors now muster 299hp.
Even more impressive is that the RX 450h is a whopping 23 percent more fuel efficient than the outgoing car. Thanks mostly to the adoption of the Atkinson cycle, which uses the pressure of air in the engine better, the 450h returns 44.8mpg and emits 148g/km of carbon dioxide – that's great, considering that the RX is bigger and 70kg heavier than the car it replaces, now weighing in at a rather portly 2.2-tonnes.
Design? What design?It looks better than the outgoing car, although that's not saying much. The 450h's exterior is more angular than before, but it's still bland and totally forgettable to look at from the outside, especially in white.
The interior is just plain bizarre, with a big, weird sweeping centre console that's spattered with buttons robbed from a Toyota Auris. The materials used just aren't up to scratch for a £55 grand car either, feeling cheap and plasticy, rather than solid and luxurious.
It's well put together though, and the optional Mark Levinson 15-speaker stereo is a belter. The new iDrive-style Remote Touch satnav and stereo controller fits your hand nicely, although the system's graphics are a bit 1990s.
Hybrid drivingAround town, the RX can travel two miles using just electric power, and it's quite eerie the first time you pull away silently in such a large car. The clever electronics manage the almost seamless transition from battery to petrol power. When both power sources work together, the 7.8 seconds Lexus claims it takes the RX 450h to get from 0-62mph seems entirely plausible.
Admittedly most RXs will spend their lives avoiding the congestion charge in London, so it's no surprise that it's easy to see out of and manoeuvre. The RX deals with smaller potholes well, but speed bumps and larger imperfections send shudders and thumps through the body.
Is the RX any fun?Lexus' claim that the RX "sets new standards for handling and driving enjoyment in the SUV segment" is total fiction. The RX struggles to manage its weight. It pitches and rolls, even with the optional active anti-roll bar fitted, and is really unstable on twisting roads. Even at low speeds, understeer is pronounced and the brakes are only just up to the job of slowing the 450h enough.
But the RX is first and foremost a city car. And the fact that this new car is a better city car than the one it replaces means it'll probably be a success – that magic hybrid badge is still enough to mollify even the most ardent of SUV haters.
It's no surprise that the powertrain is the number one reason why most customers buy an RX. But the fact that you have to pay a premium for a car that's less attractive to look at, sit in or drive than an equivalent BMW X5 or Mercedes ML makes the RX feel just a bit disappointing.
Car Specs - Lexus RX 450 h SE-L Premium
| | |
| --- | --- |
| Engine: | 3.5-litre V6, 2x electric motors, 299hp |
| 0-62mph: | 7.8 seconds |
| Top speed: | 124mph |
| Economy/emissions: | 44.8mpg/148g/km CO2 |
| Price/On sale | £55,505/Now |
We rate:Hybrid system Belting Mark Levinson stereo Engineering detail
We slate:Nasty cabin materials Poor driving dynamics Expensive to buy
Rating:
by Tom Phillips
New 2022 Toyota RAV4 Adventure revealed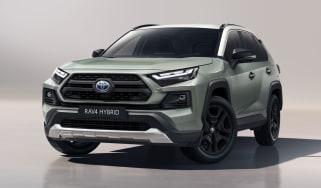 New 2022 Toyota RAV4 Adventure revealed
Best new car deals 2021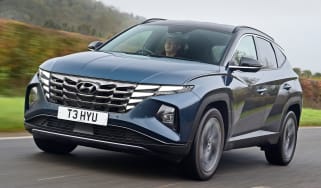 PCP deals explained – what is PCP finance?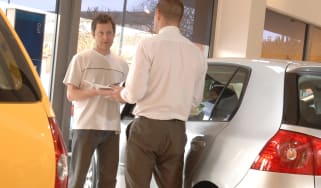 PCP deals explained – what is PCP finance?