Renault Megane 1.9 DCi review
The new Renault Megane is less controversial looking than before. But is the new hatch as good as the sexy coupe?
"The Coupe is the looker, but the five-door has lots of appeal"
When I drove the new Renault Megane on the international launch, I jumped straight into the coupe and didn't really bear much of a thought to the standard hatch version. So it's about time I got behind the wheel of what is going to be the biggest selling five-door hatch.
Immediately I noticed that the irritating electronic handbrake that featured on the model that I drove in Madrid has been banished. But as a result of having a 'proper' handbrake, the easy-to-use sat-nav interface has moved onto the dash, and has been replaced with a square hole that features and cup holder. It seems a bit less intuitive than the one I used before.
The rest of the interior is still well laid out and with a very good quality feel that hasn't previously been seen in Renaults, bringing the Megane on par with offerings from its German rivals. The only part that lets the side down here is the new digital speedo. I think dials would have just looked a bit classier and the digital one looks like a cheap solution to fitting alternate mph/kph dials in differing markets.
Even though the 1.9-litre DCI unit has been around for a while, it still feels torquey and gives the Megane plenty of pace. The Megane has six gears too, which means it can chug along sipping fuel on the motorway too.
Shame that when you get off the motorway the Renault's not really as much fun. Getting up some pace on B-roads, the Megane feels uncomfortable heading round bends with the front of the car feeling very heavy. The new hatch certainly doen't feel as nimble as the outgoing model, which is surprising considering how impressed I was with the coupe's handling characteristics.
However while the five-door Megane isn't quite as playful as the car is replaces, the new car's ride on the motorway is smooth, and wind noise and vibrations are greatly reduced, making the Mégane feel like a much bigger car than it is. Overall the Megane is a big step up in quality feel for Renault and it looks like the days of flimsy French motors are over. But we'll have to wait for the Renaultsport Megane 250 to get our driving kicks.
Car Specs - Renault Megane 1.9 DCi
| | |
| --- | --- |
| Engine: | 1.9-litre diesel, 130hp |
| 0-62mph: | 9.5 seconds |
| Top speed: | 127mph |
| Economy/emissions: | 55.4.mpg/134g/km CO2 |
| Price/On sale | £17,585/Now |
We rate: Solid feeling interior Torquey diesel Quiet on motorway
We slate: Digital dash Ride not as good as coupé Massive key
Rating:
by Craig McAlpine
Engine management light: top 5 causes of amber engine warning light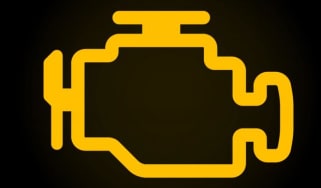 Engine management light: top 5 causes of amber engine warning light
Top 10 cheapest electric cars 2022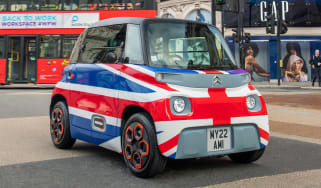 Top 10 cheapest electric cars 2022
Top 10 best electric SUVs 2022
Top 10 best electric SUVs 2022