Vauxhall Meriva deals: Car deal of the week
Buyers can save £1,500 on a new Vauxhall Meriva, now from £12,495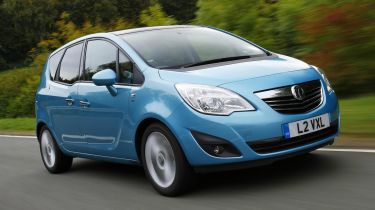 You can now save £1,500 on a new Vauxhall Meriva Tech Line, which means the car now costs from £12,495. The Tech Line specification is the second model up in the range, with more equipment than the entry-level Expression version.
Being a step up from the base model, the Meriva comes with a good amount of equipment as standard, including 17-inch alloy wheels, Bluetooth connectivity, air-conditioning, cruise control and front and rear parking sensors. Heated front seats and a heated leather steering wheel are standard, and sat-nav can be fitted as an optional extra, too.
The Vauxhall Meriva Tech Line is available with two different engines, a 1.4-litre petrol with 99bhp and a 1.3-litre diesel with 74bhp. The petrol engine can get 47mpg and will go from 0-62mph in 14 seconds, while the diesel trades speed for economy: it does the same sprint in 16.9 seconds and gets 60mpg.
Practicality is an important part of owning an SUV like the Meriva, and its boot space of 397 litres with the rear seats in place means there should be enough room for a small family. For carrying bigger loads, the rear seats fold down to increase the space to 1496 litres.
The key point on practicality is the neat rear doors, however – they open out from a hinge at the rear, so getting children and luggage in and out is easier than a lot of rival MPVs. The interior is versatile as well, and there's good enough room inside for five (though probably not five adults).
All Vauxhall Meriva models get a lifetime warranty from the manufacturer, which lasts the first owner of the car up to 100,00 miles of driving.
For more details on this deal head to the Vauxhall website and for the full Vauxhall range visit the CarBuyer Vauxhall reviews page.