Vauxhall Adam gets new petrol engine
Small petrol engine gives Vauxhall Adam improved economy and emissions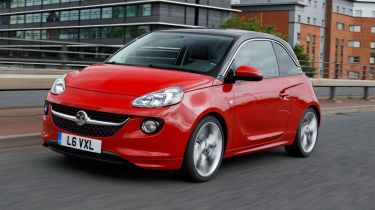 A high-tech new petrol engine will bring improved levels of economy and emissions figures to the Vauxhall Adam, when it is launched later this year.
The Vauxhall Adam will be the first car in the Vauxhall range to get the 1.0-litre engine, which is available in two outputs – of 89bhp or 113bhp. The lower-powered version will be capable of 62mpg and CO2 emissions of just 99g/km, meaning it will qualify for free road tax. We can expect the 113bhp version to return similar figures.
Vauxhall, has worked had to reduce NVH (Noise, Vibration, Harshness) and the new engine is said to be quieter than rivals, which should mean the Vauxhall Adam will become even more adept at carrying its passengers on long distances in the comfort of a quieter cabin.
Dr Matthias Alt. Vauxhall's chief engineer, said: "We not only set out to minimise fuel consumption and CO2 emissions, we also wanted to demonstrate that three-cylinder engines can be just as refined as four or more.
"We tackled at source the balance, noise and vibration issues typical of conventional three-cylinder engines, and we're confident Adam customers will be enthusiastic about the results."
Generous levels of customization have been the Vauxhall Adam's main selling point to date, and the firm claims there are a million different options available, with the car's three levels of trim – Jam, Glam and Slam. The new engine also fills a glaring hole in the range because, until now, the Adam could not compete with the CO2 emissions or mpg figures of some key rivals.
As with all Vauxhalls, the Adam also gets an 100,000-mile/lifetime warranty that covers the majority of vehicle parts and comes with free vehicle repairs at authorized Vauxhall repair shops. The Vauxhall Adam also earned a five-star safety rating from Euro NCAP.
The new engine will be available in the Vauxhall Adam later this year, after its unveil at the Geneva Motor Show in March.
For reviews of the current Vauxhall range, including the Vauxhall Adam, visit the Carbuyer Vauxhall reviews page.