Peugeot 2008 hits 100,000 models
The 100,000th Peugeot 2008 has rolled off the production line in France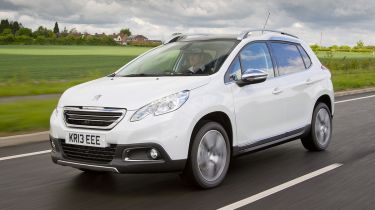 The Peugeot 2008 might not have been the sales success Peugeot had hoped for in the UK, but that isn't the case elsewhere in the world. The model isn't even a year old yet and Peugeot has managed to shift 100,000 car off the production line.
The 100,000th car was driven directly from the manufacturing plant in Mulhouse, France, where it was built, and handed straight to the lucky new owner. Corinne Spilios, director of the Mulhouse plant, and Xavier Duchemin, director of Peugeot France, both attended the ceremony.
It's a very popular vehicle in Ireland, Italy, Spain, France, Poland and Turkey. 68 per cent of sales come from the top-of-the-range Allure and Feline specifications alone.
Production has tripled at the plant to meet increasing demand, and as many as 680 Peugeot 2008s are now produced each day.
We're big fans of the Peugeot 2008 here at Carbuyer, thanks to its mix of practicality and low running costs. Only 5,000 have been sold in the UK so far, but that's still 35 per cent over target and Peugeot is confident they can reach their overall sales target of 18,000 by the end of this year.
The 2008 isn't available with four-wheel drive, but it does use a clever Grip Control system to improve its overall traction on slippy roads. Close rivals to the Peugeot 2008 include the Nissan Juke and the Vauxhall Mokka.
There's a range of economical engines to choose from. This includes 1.2-litre and 1.6-litre petrol engines and 1.4-litre HDi and 1.6-litre e-HDi diesel engines. If you want road-tax busting economy figures, the larger diesel engine is your best bet – boasting 74.3mpg fuel economy and 98g/km CO2 emissions.
The Peugeot 2008 was awarded a full five-star rating in the 2013 Euro NCAP safety tests. It scored 88 per cent for adult occupant protection and 77 per cent for child occupant protection.
Prices start from just £12,995 and the Peugeot 2008 is also available on Peugeot's Just Add Fuel finance scheme. This means you can get the Peugeot 2008 from £219 a month over three years.
For all the latest Peugeot reviews, visit the Carbuyer Peugeot reviews page.