Hyundai Genesis to be sold in UK
The big Hyundai Genesis saloon car will go on sale in the UK later this year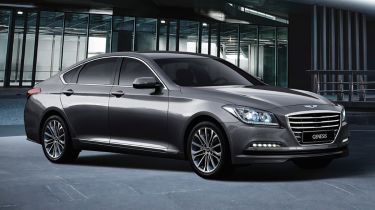 The new Hyundai Genesis – a model previously not available to buy in the UK – will go on sale in Britain later this year.
The big saloon model will be a direct rival for cars like the BMW 5 Series, Audi A6 and Mercedes E-Class, but will only be available with a powerful 311bhp 3.8-litre V6 petrol engine. All models will get an eight-speed automatic gearbox, and four-wheel drive for extra grip in slippery conditions.
Hyundai has very modest sales targets for the new model, though. It hopes to sell just 20 models every year in the UK, and only 1,000 across continental Europe. The lack of diesel engines means the 2014 Hyundai Genesis is likely to have limited appeal in economy-conscious Britain, anyhow.
That said, Hyundai hasn't ruled out the possibility of a diesel engine joining the range at a later date. Demand from other right-hand-drive markets such as South Africa and Australia has shown a global requirement for the car, so it might only be a matter of time before a more frugal diesel engine is required to boost sales.
Allan Rushforth, Chief Operating Officer for Hyundai Motor Europe told Carbuyer editor-in-chief, Steve Fowler: "If we can demonstrate demand and underwrite the volume, we'll look at a diesel."
In terms of styling, the Genesis gets a large, gaping grille and bright high-definition headlights at the front, and LED tail-lights. The sloping roofline shouldn't impact too much on interior headroom, though, thanks to the lengthy distance between the front and rear wheels.
Inside, all cars get an HD touchscreen and steering wheel mounted audio controls. We expect all models to also include climate control, heated seats, Bluetooth connectivity and adaptive cruise control that can adjust the car's speed to the traffic conditions ahead.
In addition to this, the Hyundai Genesis will get a clever carbon dioxide sensor, which can adjust the climate control if CO2 levels reach a dangerous level. Hyundai has also demonstrated how the car would be compatible with Google Glass (a new computerised headset), allowing drivers to unlock doors, turn on the engine and even find their car in a busy car park.
Prices for the UK-specification Hyundai Genesis have not yet been revealed, but given the car's large engine and generous list of standard equipment, we expect it to cost from around £35,000. It will be sold directly through Hyundai UK, rather than the already-established dealer network, and if a diesel model is added to the range, this could start from as little as £30,000.
For the full Hyundai range, visit the Carbuyer Hyundai reviews page.