Vauxhall Adam S planned
Vauxhall reveals the Vauxhall Adam S, which will be the fastest Adam yet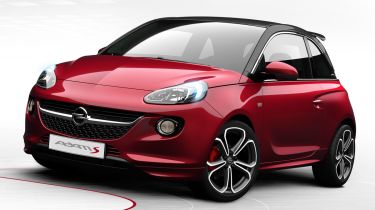 A fast version of the Vauxhall Adam – called the Vauxhall Adam S – will make its world debut as a production preview at the Geneva Motor Show. The new model will be the quickest Adam yet, thanks to a 148bhp, 1.4-litre petrol engine.
The range-topping Vauxhall Adam S uses the same 1.4-litre engine that features in lesser models, but it's now tuned to deliver an extra 50bhp. That gets the Adam S from 0-60mph in less than 8 seconds and on to a heady top speed of 137mph. Those specs put the model head-to-head with cars such as the Abarth 500 – a machine that also offers a huge range of customisable options, which is a feature Vauxhall is keen to promote in the Adam.
Increased visual appeal comes in the form of a subtle body kit, larger alloy wheels, red brake calipers, a small roof-mounted spoiler, and a new exhaust. Inside, the Adam S gets sporty Recaro seats – to grip you in place during quick cornering – and flashes of red throughout the interior.
Vauxhall will also use Geneva to preview the model's super-efficient new 1.0-litre engine. It will feature in the new Vauxhall Adam Rocks small SUV and will be available in two levels of tune – 89bhp or 113bhp. It means the Adam Rocks is capable of economy of up to 62mpg and emissions as low as 99g/km, for free road tax. The new engine is also set to feature throughout the Adam range.
Although the Adam Rocks will not get grippy four-wheel drive, it does get a beefy body kit, a range of bright interior trims, and a full-length fabric roof.
The Vauxhall Rocks also gets lots of equipment including a seven-inch infotainment screen, which features wireless music streaming, and is compatible with various apps for things like sat-nav.
Read all the latest reviews of the Vauxhall range, at the Carbuyer Vauxhall reviews pages.