New Subaru Impreza on sale from May
The Subaru Impreza 2014 will go on sale in May with standard four-wheel drive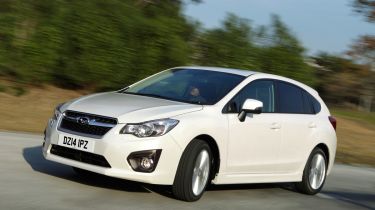 The Subaru Impreza makes a welcome return to the UK after a short-lived absence in 2013. Dwindling sales forced Subaru to cease production, but favourable exchange rates and rejuvenated demand means the latest model will arrive in the UK from 1 May.
New models are limited to a single 1.6-litre petrol engine that comes with a choice of two gearboxes. The five-speed manual gearbox option emits 147g/km of CO2 and does 44.1mpg, while the six-speed manual gearbox does 46.3mpg and emits 140g/km of CO2. A clever stop-start system helps by cutting the engine off whilst the car is stationary and restarts it when you put your foot on the clutch – in an impressive 0.2 seconds.
It's also the only car in the family hatchback sector to get an all-wheel drive system as standard. This should make the car fairly grippy, while engineers have refined the soft suspension to make even the roughest surfaces feel smooth.
On the outside, the Subaru Impreza gets daytime running lights, a hexagonal front grille, 16-inch alloy wheels, a more aerodynamic shape and a choice of either satin white, ice silver or quartz blue body colours. There are also windscreen wipers that switch on automatically when it rains and electric door mirrors.
Head inside the spacious interior, which is much bigger than the previous generation car, and there's a generous list of standard equipment. This includes heated seats, a leather steering wheel, air-conditioning, USB connectivity and a reversing camera. A Pioneer satellite-navigation system is optional.
You can also rely on the Subaru Impreza to be very safe – the old model gained the maximum five star safety rating in the 2009 Euro NCAP crash test and we expect the new one to do the same. All Subarus also come with a five-year warranty covering the repair costs for any manufacturer faults that could occur in that period.
The Subaru Impreza is one of the company's most popular models since being released in 1992. The latest models fitted with five-speed gearboxes start from £17,495, whilst prices for those with the six-speed gearbox start from £18,995.
A faster Subaru WRX STI four-door sports saloon will also go on sale in the UK from 1 May.
For reviews of all the cars in the current Subaru line-up, head over to Carbuyer's dedicated Subaru page.