New Toyota Yaris: release date, price and specs
The facelifted Toyota Yaris gets a new look and an upmarket interior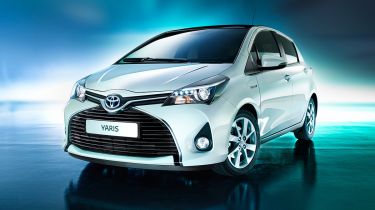 The Toyota Yaris is set to get a mid-life update that will give it looks to match the new Toyta Aygo, which goes on sale in the summer. The Yaris gets a classier interior and is said to be both more comfortable and more fun to drive than the current model.
New Toyota Yaris release date and price
The new Toyota Yaris' release date is set to coincide with the launch of the all-new Toyota Aygo, which goes on sale this summer. Although the cost of the new Yaris has yet to be confirmed, it is likely to closely match the current model's pricing that starts from around £11,000 for the basic petrol model.
New Toyota Yaris styling and interior
The facelifted Toyota Yaris closely follows the looks of the new Toyota Aygo and it gets that car's distinctive X-styled front end that separates the upper and lower front grille. Meanwhile, at the rear, the car gets re-styled lights with bright LEDs, and a sportier stance thanks to the addition of a rear diffuser, which helps aerodynamics and has the potential to slightly improve fuel economy.
Inside, Toyota tells us it has worked hard to give the new Yaris a high-quality feel (although we have yet to see it in the flesh) as well as the impression of being more spacious. It also gets new – as yet undisclosed – equipment, and as a wider range of colour and trim options, for higher levels of owner customisation.
New Toyota Yaris engines and technical specs
The new Yaris gets revised suspension, which is said to make it more comfortable and better fun to drive. Engines, meanwhile, remain the same and include the 1.0-litre and 1.33-litre petrols, the 1.4-litre D-4D diesel, and the top-of-the-range Toyota Yaris Hybrid. Expect fuel economy across the line-up to improve slightly on the current model's, which range from 51mpg to more than 80mpg.
For more information and video reviews of the current Toyota range, visit the Carbuyer Toyota reviews page.