Nine new Volvos by 2019
New Volvo XC90 SUV is first of nine cars due over the next five years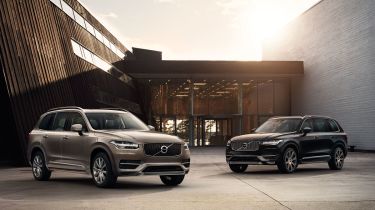 The new Volvo XC90 revealed today is the first in a landslide of products from Volvo, including a baby SUV and a range of small three-cylinder engines. Volvo has confirmed that a total of nine all-new models will be launched in the next five years, starting with the new XC90.
The nine models will line up across three ranges called 90, 60 and 40, with three versions in each range - S, V and XC. Volvo says that the 90 models offer sophistication, 60 models are sportier and 40s are more about fun. As far as the ranges are concerned, S stands for elegance, V for elegance and functionality, while XC represents refined strength.
Following the XC90 SUV will be the S90 – a replacement for the Volvo S80 saloon, set to rival the Audi A6, BMW 5 Series and Jaguar XF. Originally, this model was set for launch before the XC90 but the decision was made to switch them three years ago.
A Volvo V90 estate will follow, before attention is turned to the Volvo S60, V60 and XC60. Finally, towards the end of the decade, the Volvo V40 will be replaced, while an Volvo XC40 baby SUV will be added along with an S40 small saloon.
Key to the new models are Volvo's new modular platform technologies and engine line-up. The XC90 debuts Volvo's Scalable Platform Architecture (SPA) large platform and a range of four-cylinder diesel and petrol Drive-E engines. SPA will underpin all future 90 and 60 models.
The 40 range will feature three-cylinder engines from the new modular Drive E range and they are likely to feature in the existing V40. Volvo product boss Lex Kerssemakers told Carbuyer: "It's easy to produce three-cylinder engines from the Drive-E range and we hope to introduce them in the near future."
The 40 models will be produced on an all-new CMA platform, being co-developed with Volvo's Chinese owners Geely and set to feature on a new range of Geely small cars.
However, in spite of the excellent reaction to Volvo's recent Concept Coupe there are no plans to produce a coupe Volvo. Kerssemakers said: "I know my colleagues would love to do it, but I have to say 'no'. We need to get our basic line-up in order before we slowly start to put the icing on the cake.
"Nine models are enough for now. When you do the maths and look at sales volumes, we have to focus. Our rivals' bread-and-butter cars account for 60%-80% of their total volume. That's where we want to be to achieve our growth target of 800,000 cars a year."
Kerssemakers also confirmed that Polestar performance models were very much part of the future model line-up, although a Volvo XC90 Polestar hasn't been considered. Volvo will also be concentrating on its plug-in hybrid technology rather than full EV, but the company has the ability to develop a full EV at reasonably short notice if the market demanded it.
For reviews of cars in the Volvo range, including the current XC90, head over to Carbuyer's dedicated Volvo page.