All-new Suzuki Vitara SUV launched
Covers come off Suzuki's Nissan Juke rival at the Paris Motor Show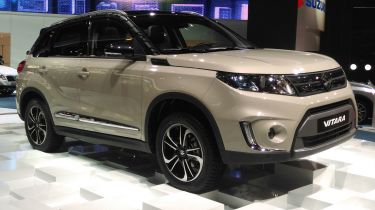 The all-new Suzuki Vitara has made its public debut at the Paris Motor Show and will go on sale in spring 2015.
Despite its name, Suzuki says the car isn't intended as a direct replacement for the larger Suzuki Grand Vitara, which was recently discontinued. From seeing it on the Suzuki stand in Paris, we think the car looks very similar to the SX4 S-Cross, aside from its nose.
The car will be offered with five doors and features an imposing grille, plus roof rails for added practicality. It has been a popular model with young drivers in the past, and the new Vitara will hope to tap into that market by offering a number of options for buyers to personalise their car.
Despite the similarities, the Vitara looks more rugged than the SX4 S-Cross. It's smaller and therefore cheaper than the S-Cross, but will share that model's four-wheel-drive system and is tipped to feature the same 1.6-litre diesel engine, too. In the Suzuki SX4 S-Cross, that engine can return fuel economy of close to 70mpg and CO2 emissions of just 110g/km, meaning road tax costs £30 per year.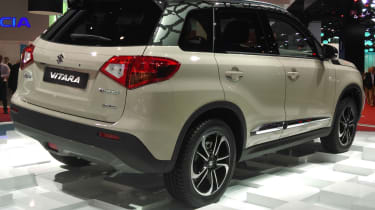 Expect the new car to be much better to drive on-road than the old Suzuki Grand Vitara, but as a result it's unlikely to share that car's formidable off-road ability.
The car should be a rival for models such as the Nissan Juke and Renault Captur, with prices starting at around £13,000.
Read our review of the Suzuki SX4 S-Cross on our Suzuki reviews page for a better idea of what the new Vitara might have to offer.