Vauxhall Adam Rocks Air – price revealed
Rugged Vauxhall Adam city car-crossover costs from £14,695 and is on sale now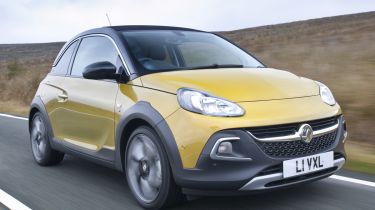 Costing from £14,695, the Vauxhall Adam Rocks Air adds rugged styling and a folding fabric roof to the regular Vauxhall Adam's long list of attributes. First cars will be delivered to their new owners later this month.
From the outside, the Adam Rocks Air crossover is easy to indentify from the standard Adam hatchback thanks to its raised suspension, wider stance, protective plastic cladding, and fabric roof that retracts in just seven seconds.
The crossover is the first Vauxhall to be available with the firm's hi-tech 113bhp petrol engine. It should be good for more than 60mpg fuel economy and sub-100g/km CO2 emissions that mean the car qualifies for free road tax.
Although it has yet to be tested for safety, the Adam that it's based on only scored four stars (out of five) in the extremely tough Euro NCAP crash tests. The Vauxhall Adam Rocks comes with hill-start assist as standard and buyers can also choose equipment such as park assist and a blind spot warning system.
The car is the only model in its class to offer heated front seats and a heated steering wheel. Climate control is a £300 option. Buyers can also choose to specify Vauxhall's IntelliLink system for £275, which mirrors the screen of your Android or Apple smartphone to offer app functionality in your car. It also boasts Bluetooth connectivity and compatibility with apps for tools such as sat-nav.
The price means the Adam Rocks costs over £1,000 more than the Nissan Juke – arguably the car's closest rival, although the Nissan can't offer the wind-in-the-hair thrills of the Vauxhall.
Stuart Harris, Vauxhall's Head of Carline Brand, said: "Adam Rocks Air combines the toughness of a crossover with the coolness of open-air driving. It's the perfect Adam for active drivers wanting to stand out from the crowd."
For more information, read our full preview of the Vauxhall Adam Rocks. Scroll below for full engine and equipment specifications.
Engine specifications
Engine
MaxSpeed
0-62mph
Urban
ExtraUrban
Combined
CO2
FirstYear tax
Second

Year tax

1.2 16v VVT (69bhp)
103
14.9
39.2
65.7
53.3
125
£0
£110
1.4i 16v VVT (86bhp)
109
12.5
40.9
64.2
52.3
126
£0
£110
1.0 12v Direct Injection TurboecoFLEX Start/Stop (113bhp)
121
9.9
44.8
64.2
55.4
119
£0
£30
Standard equipment:
Remote central lockingLeather wrapped steering wheel w/ Deco Elements, CCtrl & IRCCloth/Morrocana Seats17-inch alloy wheels - Swissblade designTinted windowsElectric folding canvas roofLED DRL Signature LampsLED Tail lamps15 mm raised chassis
The following options are also available:
IntelliLink infortainment systemPark Assist rearFloor Mats (standard w/ ROCKS AIR unique Brandy interior)Car AlarmInfinity Sound SystemLeather trimStart-stop fuel saving technology17-inch & 18-inch alloy wheelsExterior mirror capsInterior mirror caps