New Audi A6 2015 price and specs
The new Audi A6 gets more equipment and more economical engines - capable of an impressive 67.3mpg
Prices for the new Audi A6 saloon and Audi A6 Avant have been revealed, ahead of first customer deliveries in December of this year. This comes soon after the company announced a light facelift and updated engines, and should help renew the appeal of the Audi A6 saloon and Audi A6 estate in the competitive executive-car class.
Especially popular with company car drivers, the new Audi A6 Ultra model will be of particular interest. This super-frugal diesel model emits just 109g/km of CO2 and costs from £31,955. Other highlights include the range-topping twin-turbo BiTDI diesel engine, which is priced from £46,125 in well equipped SE trim.
Updates include a range of engine and gearbox tweaks, as well as new headlights and an updated infotainment system.
Ulrich Hackenberg, board member for technical development at Audi, said: "The Audi A6 sets new standards in many technical fields: the lightweight body, the powerful and efficient engines, the sporty chassis and the advanced assistance and multimedia systems."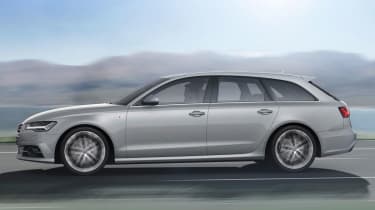 New Audi A6 2015 price and release date
The current Audi A6 costs from £30,985, and while the new model is slightly more expensive, the updates make it easy to justify the small price hike.
The basic 2.0-litre TDI Ultra with a manual gearbox costs from £31,955, while the higher-spec S line models cost £2,450 more (starting from £34,405) across all engine options. Top-spec Black Edition cars cost an additional £2,175 on top of that, so are priced from £36,580.
Adding an automatic gearbox to the 2.0-litre TDI will cost you £1,530. Prices for the estate are around £2,000 more across the range, with the more expensive four-wheel-drive Audi A6 Allroad model starting at £45,255.
Full prices for all new Audi A6 models are listed below, with first customer deliveries taking place in December this year. The faster Audi S6 version will be available from November, with customer deliveries in March 2015. Price and release date for the range-topping Audi RS6 Avant will be announced later, but order books for this model are expected to open early next year.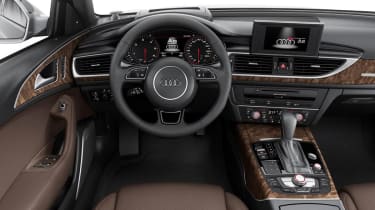 New Audi A6 2015 specs
Like last year's BMW 5 Series facelift, external updates to the Audi A6 are subtle. The new model gets revised headlights, a redesigned bumper, grille and side sills as well as new rear lights and exhausts.
The entry-level Audi A6 SE comes with most the equipment you'd expect from a car in this class. Everything from 17-inch alloy wheels,a DAB digital radio, sat nav and Bluetooth are included, as are leather seats, bright xenon headlamps and LED rear lights. Parking sensors, cruise control and automatic lights and wipers are also standard, as is four-zone climate control – instead of the previous two-zone system.
Step up to the S line and you'll get 18-inch alloy wheels, sports suspension and leather sports seats. LED headlamps with automatic high-beam assistance are also included, as is all the kit listed for the SE model.
S line models also benefit from new Lunar Silver upholstery. Previously, top-of-the-range models were only available with black leather seats, which made the interior feel very dark. Other upgrades to the S line include a new gearlever and additional chrome detailing.
Buyers can also upgrade to Matrix LED lights on all A6 and S6 models, with the top-spec Audi RS6 getting them as standard. They effectively remove the need for a full-beam function, by turning off individual LEDs to form a dark spot around other road users but keeping the rest of the road illuminated, then turning them back on when the way is clear.
Top-spec Black Edition models are the sportiest of the lot. They have 20-inch alloy wheels, tinted rear windows and a special Black styling package. Inside, there's piano-black trim and a Bose surround-sound stereo.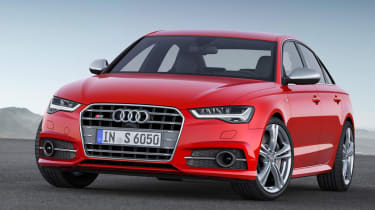 New Audi A6 2015 technology
Inside, the front seats are available with optional ventilation and massage functions, while all cars have automatic air-conditioning and Audi's MMI stereo as standard.
However, buyers who want the best in the business will need to upgrade to MMI Navigation Plus with MMI Touch. This system uses an eight-inch retractable screen on the dashboard, with newer, faster graphics. As expected, the new A6 will connect to the Internet, and use a selection of media streaming apps for functions such as music and navigation.
Of course, all the above updates will be applied to the Audi A6 Allroad, Audi S6 and Audi RS6, too.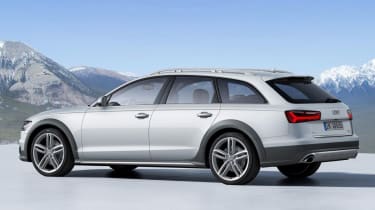 New Audi A6 2015 engines
The new Audi A6 will have a selection of updated engines, with Audi claiming it has reduced CO2 emissions by as much as 22% across the range. As before, the most economical models will be badged Ultra in the UK.
Audi has made the decision to drop the economical 2.0-litre petrol-electric hybrid in favour of an all-TDI diesel line-up. Although a new lower-power 148bhp diesel engine will be introduced in foreign markets, the UK will have to make to with the already-brilliant 187bhp TDI Ultra. That version will now return 67.3mpg and emit 109g/km of CO2.
The larger 3.0-litre six-cylinder TDI diesel engines now offer more power. The basic 215bhp version replaces the old 201bhp engine, while the existing 242bhp model is replaced by a much more powerful 268bhp engine. Finally, the top-of-the-range 316bhp 3.0-litre TDI gets a modest 7bhp increase.
The Audi A6 Allroad will use the same updated trio of 3.0-litre TDI diesel engines.
As before, buyers have a choice of six-speed manual or S tronic automatic gearboxes across the range, as well as the option of two or four-wheel drive. Probably the biggest improvement is the introduction of the S tronic automatic on the front-wheel-drive models – replacing the less competent CVT automatic as standard.
The Audi Dynamic Drive Select system will be standard on all models, allowing owners to tweak the car's settings for a sportier or more comfortable drive, depending on their preference.
For more information on the Audi range, including a video review of the outgoing A6, visit the Carbuyer Audi reviews page.
Model
Model
Power
Pricing (OTR)
S line premium
Black Edition premium
A6 Saloon
2.0 TDI ultra manual
190 PS
£31,955
£2,450
£2,175
2.0 TDI ultra S tronic
190 PS
£33,485
3.0 TDI
218 PS
£38,095
3.0 TDI quattro S tronic
218 PS
£39,855
3.0 TDI quattro
272 PS
£41,415
3.0 BiTDI quattro
320 PS
£46,125
A6 Avant
2.0 TDI ultra manual
190 PS
£33,955
£2,450
£2,175
2.0 TDI ultra S tronic
190 PS
£35,485
3.0 TDI S tronic
218 PS
£40,095
3.0 TDI quattro S tronic
218 PS
£41,855
3.0 TDI quattro
272 PS
£43,415
3.0 BiTDI quattro
320 PS
£48,125
A6 allroad quattro
3.0 TDI quattro
218 PS
£45,255
-
-
3.0 TDI quattro
272 PS
£46,815
3.0 BiTDI quattro
320 PS
£51,620
S6 Saloon
4.0 TFSI quattro
450 PS
£56,000
-
-
S6 Avant
4.0 TFSI quattro
450 PS
£58,000
-
-
RS 6 Avant
4.0 TFSI quattro
560 PS
TBC
-
-