Mazda2 special editions announced
Black and White models throw sporty looks and extra kit at the outgoing Mazda2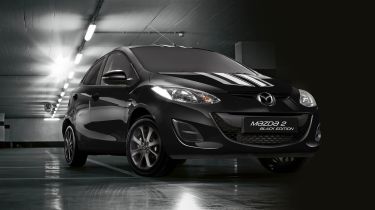 Mazda is the latest company to offer Black and White special editions as it looks to shift the last remaining examples of the current Mazda2 to make way for the new model.
The Black Edition and White Edition models are priced from £12,145 and offered in five-door form only. Both get a sporty diffuser-style rear bumper, a Jet Black rear spoiler, 15-inch alloy wheels, unique badging and (no-cost optional) stickers for the bonnet and roof. That leaves you to choose from two paint finishes – Jet Black Mica (Black Edition) or Crystal White Pearlescent (White Edition).
Inside, the sporty pretence is kept alive by 'bespoke interior styling', which consists of body-coloured trim and red piping for the black fabric seats, plus glossy black plastic on the steering wheel and around the stereo.
Standard equipment includes air-conditioning, a CD player with two speakers, USB and MP3 player connectivity and a no-cost-option, steering wheel-integrated Bluetooth hands-free system.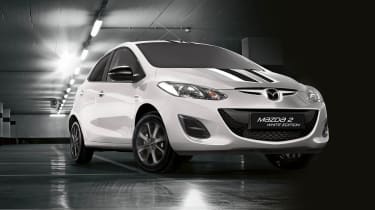 The special editions are only available with Mazda's 74bhp 1.3-litre petrol engine, which gets them from 0-62mph in 13.6 seconds, but (more importantly) sips fuel at 56.5mpg and costs just £30 a year to tax.
If the special editions don't capture your imagination then it's worth noting that every model in the Mazda2 range is being offered on Mazda finance with no deposit, interest-free credit and a £750 saving on the cost of the car.
Although it offers excellent value initially, the launch of the new model (which we have already driven) will no doubt have an adverse effect on the special editions' used values. The 2015 Mazda2 makes across-the-board improvements thanks to its sharp new looks, bigger interior, larger boot, lower running costs, hi-tech equipment and up-to-date safety features.
For all the latest reviews from the Mazda range, visit the Carbuyer Mazda reviews page.
What is AdBlue?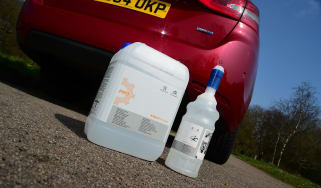 Top 10 best company cars 2021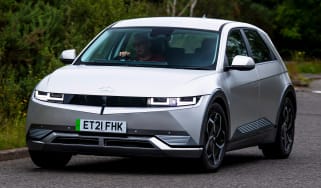 Top 10 best company cars 2021
Genesis GV80 SUV review