Watchdog: Squirrels make a meal of Toyota Aygo
Aygo repaired five times after squirrel attacks but Toyota denies 'eco-plastics' link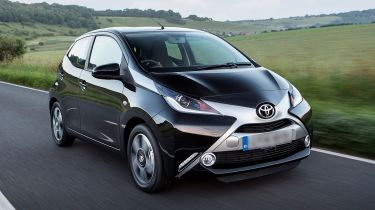 It's an admirable eco trend to manufacture car parts from plants, but could this green-fingered initiative be making new vehicles irresistible to hungry wildlife?
Reader Tony Steeles of Croydon, South London, certainly thinks so. He says that his brand new Toyota Aygo was repeatedly attacked by squirrels only days after taking delivery. He told Carbuyer's sister site, Auto Express: "The aerial's been chewed off twice, the oxygen sensor's been damaged and various rubber-like trim parts have been chewed and damaged. The car's been back for repairs four or five times."
As no other vehicles parked nearby have been attacked, Tony wondered whether Toyota's use of plant-based plastics might be to blame. Door trims, seat cushions, spare tyre covers and boot liners are among the parts the brand now makes with plastics derived from sources such as the castor oil plant.
The list of 'eco' components is growing, too. Ford even announced last year that it was working with Heinz to research the use of tomato fibre in car plastics. Meanwhile, US oil maker SynLube claims food sources such as soy, peanut oil and even rice husks are used by some manufacturers. It also lists some cars in the States where rodent attacks have been frequently reported.
Tony's dealer, Jemca Croydon, argued that there was no link between his car's plastics and the squirrel attacks. However, it did pay for the repairs each time he returned the car, and eventually swapped him into a new Yaris.
A Toyota spokesman told Auto Express that Tony's issue was "unusual", adding: "We have very few complaints of this occurring in UK." However, he said the firm's research and development teams would: "investigate if any improvements can be made to the design of our products to deter rodents."
In the meantime, Tony said he wasn't taking any chances with his Yaris; he now stores it in a garage overnight.
What should you do if it happens to you?
Your warranty won't protect you, so unless you've got a sympathetic dealer or are prepared to argue the case in court, garaging your car is the safest solution. You'll be protecting the paint from corrosive bird lime and salt, and will put off vandals, too. Don't have a garage? A car cover can help keep it looking showroom fresh and might deter squirrels looking for something to chew on.