Watchdog: Frozen wipers blow engine computer on Civic
Owner left stunned at £1,600 bill because he activated wipers in frosty weather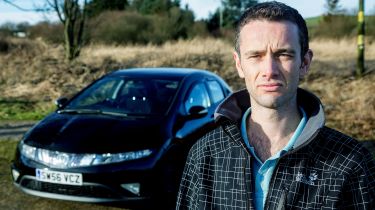 Cold weather can cause a whole string of problems for cars, with frozen windscreens, dead batteries and icy roads all posing a danger to drivers.
What you wouldn't expect is a £1,600 repair bill for a blown engine computer (called the Electronic Control Unit or ECU). Yet that's what Graeme Scott, from Banchory, Aberdeenshire, faced after trying to switch on his 2006 Honda Civic.
After turning the key in the ignition, the hatchback wouldn't start, but flagged up its engine management light. Graeme got it to a local garage, which said it was a glow plug fault.
He then booked the car into Honda's Macrae and Dick dealer in Aberdeen for a more detailed diagnosis. After several weeks, Graeme was told the problem was a blown ECU. This had been caused by the window wipers being frozen to the screen and unable to move when the car was switched on. This in turn created a voltage spike which damaged the ECU. Graeme said: "It is unacceptable. It's costing £1,600 simply because the wipers were on in frosty weather."
A quick search online revealed Graeme wasn't the only one to have had this problem on his Civic. Other owners were reporting the same failure.
Graeme contacted Carbuyer's sister publication Auto Express, who in turn got in touch with Honda. The consumer desk at Auto Express felt that, as it was a known issue, the firm should be contributing to Graeme's £1,600 bill.
A spokeswoman said: "When a vehicle is out of warranty, and has been serviced outside of the Honda network, it is hard to offer goodwill gestures as we do not know the full history of the vehicle.
"The vehicle in this instance is five-and-a-half years out of warranty and has not been seen by a Honda dealer since 2012. As a company, we pride ourselves on exceptional customer service, and would like to reduce Mr Scott's ECU bill to £500 plus VAT and labour."
Graeme was delighted. He added: "That's brilliant news – I can only thank Auto Express for all its help. It's far beyond what I expected."
Advice: What should you do if it happens to you?
If you own a Civic of this age, you should be aware of this potential problem. The best advice is to turn the auto wiper function off to avoid the wipers trying to start if they're frozen. Alternatively, remember to check the wipers aren't frozen before switching the engine on to avoid a potentially hefty repair bill.