Watchdog: Lexus honours claim on 10-year-old SUV
Award-winning brand to rescue as aftermarket cover provider rejects claim on RX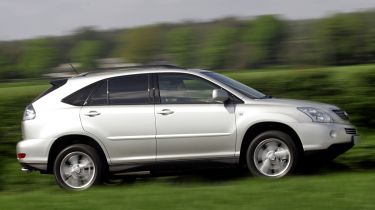 The customer service you receive varies between every dealer and manufacturer, so deciding where to place your money and faith can be hard.
Thomas Frogbrooke, of Birmingham, decided to heed the results of our Driver Power dealer survey and shop at a Lexus franchise. The brand's garages have topped the rankings since Driver Power began in 2002, so Thomas felt confident buying a 10-year-old RX 400h from Lexus Exeter in December 2013. For extra peace of mind, he took out a two-year extended warranty.
Within the first year of ownership, Thomas had to claim for leaking tailgate lights, a seized brake caliper, leaking air-con condensor and water pump.
This year, Thomas found himself having to claim again, as the front suspension bushes had split and needed replacing at a cost of £1,100. But this time, when an engineer for the warranty company inspected the car, they rejected the claim as wear and tear. Thomas was even more disappointed when the manager at Lexus Exeter told him he'd seen claims for the same issue on older vehicles with higher mileages approved by the same company.
Thomas contacted the consumer desk at Carbuyer's sister site Auto Express as he wasn't convinced suspension bushes should be wear and tear items, and said most policies list specific exemptions when you purchase them. He told us: "I've tried e-mailing customer services, but they just repeat the 'wear and tear' line without answering my questions."
We got in touch with Lexus on Thomas' behalf and, after reinvestigating the case, it agreed to cover the cost. It also let him get the car fixed locally, rather than having to return to Lexus Exeter.
A Lexus spokesman said: "While the issue was not covered by the terms of the extended warranty, Lexus tries to ensure it is as fair as possible with every customer. We are happy that this has been brought to a positive conclusion."
What should you do if it happens to you?
It's notoriously difficult to get a payout on an extended warranty, but if the policy is associated with a manufacturer, persistence may pay off and you may overcome a wear and tear hurdle. For peace of mind, check out the Driver Power ratings on the Auto Express site to find out which brands' dealers treat their customers best when buying a car.