Watchdog: Owner in limbo as Ford and dealer row on rust
Dealer claims it'll do repair job on Ka under warranty, but Ford says garage is wrong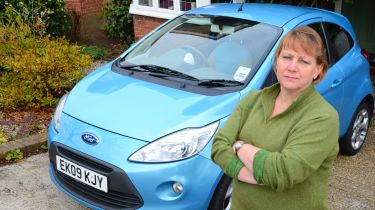 Claiming under an anti-perforation or corrosion warranty can be an arduous process. Often it'll be a dealer inspecting the car who rejects the claim, and our advice is normally to move it up to your manufacturer. But what if the dealer is supporting you and the manufacturer is proving the stumbling block?
That's what Sue Garrad, from Barnet, North London, found when a claim for rust on her 2009 Ford Ka was supported by her dealer but rejected by Ford.
Sue bought the Ka as the second owner from Dagenham Motors and had it serviced at Trust Ford, Colindale, to ensure the warranty was maintained.
After the last service, a part started to show signs of rust and Sue returned to Trust Ford, who said it would be covered under the 12-year bodywork warranty.
However, when the case was sent up to Ford for approval, it was rejected. The maker said it wasn't a bodywork part and Ford would only offer to cover 40% of the £161 bill. Sue wasn't happy and told the consumer desk at Carbuyer's sister site Auto Express: "It's a complete part failure and the dealership has been really good, but we can't get past Ford. I think it should be repaired under the bodywork warranty."
We contacted Ford to find out why it was at odds with the dealer and why the perforation and corrosion warranty appeared worthless. A spokeswoman explained the part was not bodywork as it was the section that bolts the wiper blades to the body – this isn't covered by the warranty. She said: "The dealer had advised, incorrectly, that it should be replaced under the bodywork warranty."
It seemed that this was unfair on Sue, so Ford was pushed further. A spokeswoman added: "Ford has now offered 50% towards the cost as a gesture of goodwill for the inconvenience caused, with the dealer discounting its labour costs by 50% and adding a free MoT as a further gesture of goodwill." Sue was delighted at the outcome.
What should you do if it happens to you?
Should the dealer and manufacturer be at odds with each other, you shouldn't be left in the middle without any resolution. If the case is dragging on, consider taking it to industry regulator Motor Codes, which can try to resolve the case. If you aren't happy with a bodywork assessment, consider getting an independent inspection.