Watchdog: Owner's loyalty rewarded over S-MAX steering fault
Long-standing customer's MPV develops fault just as warranty expires, but Ford steps in
Loyalty isn't always rewarded in life, but sometimes it can pay off and help you out when you need it most. The Mowat family certainly reaped the benefits of their continued loyalty to Ford over the years, after problems with their 2011 S-MAX left them facing a hefty repair bill.
David Mowat and wife Mary, from Airdrie, North Lanarkshire, contacted Carbuyer's sister magazine Auto Express after their MPV started to make strange noises. It wasn't an unfamiliar sound, either. David explained: "We traded in our last S-MAX, losing money to get a new, more expensive one, after it went wrong. Just a year later, this one is doing the same thing."
The S-MAX was inspected by a local dealer, Evans Halshaw of Coatbridge, where mechanics decided a new power-steering system was needed, costing £2,000. With the car only just out of warranty and having done just 22,000 miles, David wasn't happy that they'd have to pay the full amount.
He said: "Customer relations keep putting us off. We've bought a number of Fords over the years, so are loyal customers. We've done so few miles in this one, I thought they might help us out."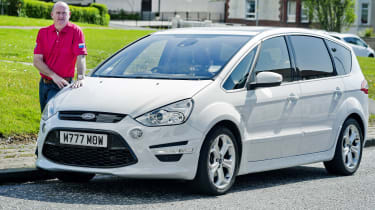 The S-MAX was in the garage for three weeks, and with a family holiday on the horizon for which the car would be needed, David agreed for the work to be done. He hoped to claim the costs back afterwards.
Meanwhile, we contacted Ford to investigate the case. We felt that with the Mowats' continued loyalty – and because the S-MAX was only just outside of warranty – the company should make a contribution to some or all of the parts and labour costs. A few days later, the manufacturer responded – and with a generous offer, too.
A spokesman said: "Ford's offered 75 per cent of the cost of the repair as a goodwill gesture in an acknowledgement of previous loyalty, mileage and the short period outside of the warranty. The dealer has additionally offered to discount the repair by £200."
The car was fixed in time for the family trip, too. David added: "Ford gave us the go-ahead just as the garage started the work, so it all worked out perfectly. I think things came to this conclusion because Auto Express got involved."