Watchdog: Ford gets wires crossed over servicing history
Ford blames lack of "servicing loyalty" for not helping to fix Mondeo... then does a U-turn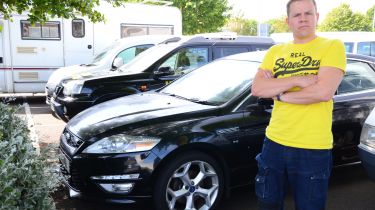 Thanks to Block Exemption rules, you're not tied to your new car's dealer network during its warranty period. However, Auto Express, Carbuyer's sister magazine, regularly hears from readers whose vehicle warranty has expired and are then shocked to discover that stony-faced manufacturers won't help them out, all because an inconsistent service history means that goodwill goes out the window.
That was exactly the reaction Auto Express got from Ford when they called on behalf of their reader, Andy Davis from Hawkinge, Kent. The turbo failed on his four-year-old Mondeo and he hoped Ford staff would help. No such luck.
Andy had previously asked KAP Folkestone to investigate an engine management warning light during a recent routine service, and was shocked by its diagnosis.
"When I got the car back from KAP, it was undriveable; and I was told I needed to pay £1,700 for a new turbo to be fitted. Surely this shouldn't happen to a four-year-old car? This is my sixth Mondeo, and I've never heard of this before," he said.
Auto Express agreed, but Ford didn't. Its spokesman said: "The turbo has failed outside the warranty period. That's when we feel it shouldn't fail, and when we'd step in."
He added that the dealer had already carried out £160 worth of diagnostic work free of charge, and that was all the goodwill Ford was prepared to offer because Andy's service history with Ford wasn't complete.
Andy, however, told Auto Express that simply wasn't true. He said: "I've had every single service carried out by Ford. I can't believe that they don't know that. The last three were even with KAP Ford! I will not be using a Ford garage for this work or to service my car any more after the way they have handled this."
A few days later, Ford remarkably backtracked over its incomplete service history claims. It now said that Andy's Mondeo was "well maintained" and he'd been "loyal to the brand". The spokesman confirmed Ford would now be offering almost £600 towards the work.
But Andy wasn't happy with how he'd been treated by Ford and told us he'd found a cheaper quote elsewhere, adding: "It's too little, too late. They've lost a loyal customer."