Watchdog: New Citroen's glitches spark six dealer visits
Electrical gremlins bring six months of misery to Grand C4 Picasso owner Ralph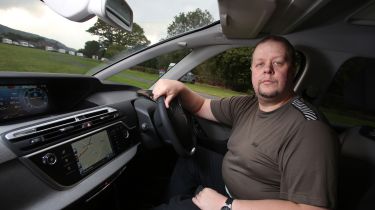 Modern cars are filled with digital displays and electronic software to make things easier and more convenient for drivers, but that advanced tech can bring its own problems.
Just ask Ralph Ferneyhough, from Corwen, Denbighshire. He bought a new Citroen Grand C4 Picasso in February. But by August, it was back at the dealer for its sixth visit due to various faults with the electronic systems.
Ralph listed everything that had gone wrong with the car, including parking system failure, Bluetooth failure with his smartphone, failure of the instrument panel display, among other things.
"The most recurrent fault is with the eMyWay unit," Ralph explained. "Basically, plug in certain USB devices and try to use the sat nav at the same time and it randomly reboots the whole system every 40 miles or so."
Despite having a replacement unit put in, the problems continued, and attempts to reject the car with Citroen finance were also proving fruitless. After speaking with Citroen customer services further, Ralph was under the impression that he might be getting a replacement car, but when that started to drag on, he was unsure if it would happen at all.
Ralph said: "As I understand it, they are trying to get me a replacement vehicle, but they remain very sketchy on the details on what this actually entails."
Auto Express, Carbuyer's sister publication, got in touch with Citroen to try to find out what was going on with his car and to see whether he would be offered a replacement.
"We are sorry that Mr Ferneyhough has been inconvenienced in this way and acknowledge that he has lost faith in this particular vehicle," a spokesman for the company told them.
"As a valued customer, Citroen wanted to find an acceptable solution for him, so we have offered to replace his car with a brand new Grand C4 Picasso on a like-for-like basis."
What should you do if it happens to you?
Fully rejecting a car can be a long-winded process, with manufacturers often not keen to let owners do it. The best solution for both parties is attempting to get a like-for-like replacement. If you are adamant on rejecting the car fully, then you need to notify the finance company as well as the dealer that you bought from in writing.