Watchdog: 'No faults' on new MG3 that left owner stranded
Owner is perplexed as independent report fails to find faults on problematic MG3
An independent inspection is sometimes the last resort for troubled motorists to try to persuade a manufacturer to act, but they don't always quite work out.
Chris Cuthill of Newtongrange, Midlothian, decided to obtain an independent survey on his 2014 MG3 after his dealership found 'no mechanical faults' with it.
"Within the first week of ownership the suspension started to clunk and I was hearing a squeal when driving at 60mph. All of this was made even worse by the discovery of rust and cracked paint on the roof and around the windscreen," Chris said.
Dissatisfied with the condition of his new car, Chris took it to Phoenix MG in Linwood, Renfrewshire. The dealer found the squeal coming from the auxiliary belt, which was replaced under warranty. However, only three days later, Chris was stuck on the side of the road as the new belt had snapped.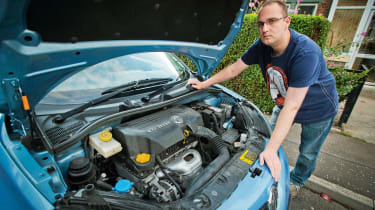 "I had to call my breakdown provider for the first time in 13 years," Chris said. He felt MG hadn't delivered him a car that was up to standard, and wanted to reject the vehicle. MG, however, concluded there were no mechanical faults with the car, the rust issues had been solved by a repaint, while the clunk in the suspension was described as a "characteristic of the car" by an MG spokeswoman.
Chris contacted Carbuyer's sister magazine Auto Express for help, and simultaneously proceeded with an independent inspection of his MG3. Unfortunately for Chris, the report agreed with MG's verdict – no manufacturing defects were found. Auto Express, however, made the point that while the vehicle is fault free, it has still been a burden for Chris, and a goodwill gesture would be appropriate given his continuous use of the MG dealer network.
MG agreed, and decided to give Chris the next two services for free, on top of the £200 he was paid in compensation for the rust problems. An MG spokeswoman said: "While no faults were found with the car, we still want to do the best we can for our customers, which is why we have offered Mr Cuthill the next two services free of charge."
Chris concluded: "While not exactly what I had wished for, this does give me peace of mind when it comes to my next service."