Watchdog: Nissan quotes £1,240 for DPF fix costing £62
Dealer said X-Trail needed filter; independent sorted it for fraction of price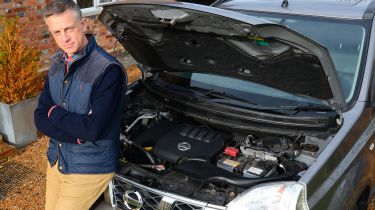 When drivers have problems with their cars, we often find that they miss out on help or goodwill from the manufacturer if they've used an independent garage for servicing or repairs. In many cases, though, these garages can save you a great deal of money.
Justin Byrd, from Frittenden, Kent, spoke to Carbuyer's sister publication, Auto Express, after the diesel particulate filter (DPF) warning light came on in his 2008 Nissan X-Trail. Justin took it to dealer Motorline Nissan, Tunbridge Wells, which told him not to drive any further as the problem was more severe than usual DPF issues, and wouldn't be resolved in the normal way by taking the car for a long drive.
The DPF works by absorbing harmful particles from diesel exhausts and, like all filters, will get clogged after prolonged use. It should clean itself during a long drive when hot exhaust temperatures burn off the soot.
Justin said: "The dealership told me it had attempted to force regenerate the DPF without success, and instead I would now need a new filter costing £1,240."
The company believed the oil and DPF needed to be changed for the vehicle to be roadworthy. But before forking out, Justin sought advice from an independent garage, Mark Lilly in Flimwell, East Sussex. Justin said: "Staff told me Nissan is charging for a part that doesn't need replacing, and just said to drive my car in fourth gear on the motorway."
After weeks of leaving the X-Trail on his driveway, Justin took it for a spin, and later booked it in with Mark Lilly. The garage drove the car, too, and after a short run, the warning light disappeared. The whole endeavour cost just £62. "Had I agreed to the Nissan garage's claims, I'd have been £1,240 out of pocket." Yet Nissan is standing by its dealer.
A spokeswoman said: "The Nissan dealer took the correct course of action by following the diagnostic process. The equipment indicated that the vehicle needed a new DPF, therefore staff advised Mr Byrd not to drive the car if this work was not undertaken.
"A regeneration was conducted twice at the dealership, but it was clear from the equipment that the DPF was beyond repair, and would instead need replacing." However, Justin has continued to drive the car without any problems.