Watchdog: Buyer panic as SsangYong dealer loses franchise
Readers confused after collecting car from dealer that's no longer SsangYong-registered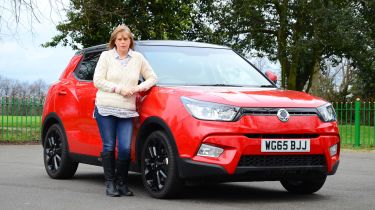 We often have to deal with cases where a manufacturer defers responsibility of a reader's issue, due to the independent franchise set-up of its dealerships. Often, "you'll have to speak to your dealer" is the maker's stock response.
We always dispute this, as ultimately, it's the manufacturer's product to sell. Yet what if a dealer loses its franchise? This doesn't often happen, but where does it leave you?
Readers John and Paula Baldock were left "horrified" while buying their new SsangYong Tivoli from the local SsangYong outlet in Wolverhampton last year.
John and Paula put down a deposit at the franchised garage, and agreed to a PCP deal to pay the rest. But when they went to sign up, the salesman said the dealer was no longer a SsangYong-registered site.This immediately set alarm bells ringing for the Baldocks, and when they finally received the car registration documents, it showed the Tivoli had in fact been bought from another dealer in Somerset.
They immediately called SsangYong customer services, which promised everything would be fine, and offered a voucher for a free service – but this never materialised. A concerned John contacted us, claiming the manufacturer was now stating that the car hadn't been bought new from SsangYong.
"This is meant to be the motor industry at its best – if this is how it works, God help us," he said. "We're now also concerned it's been pre-registered." If this was the case, it would mean the Baldocks were the second owners, which would hit resale value, plus they may lose out on any further help from SsangYong. "We want SsangYong to acknowledge we did buy it from a main dealer," added John.
We contacted SsangYong, and it confirmed Mr Baldock had indeed purchased the car from a main dealer and was the first owner. After investigating the case, a spokesman said: "SsangYong Motor UK confirms that the car owned by Mr Baldock was purchased in the UK, so the five-year/limitless-mileage warranty still applies to this vehicle."
He also confirmed: "The offer of a first free service was made as a gesture of goodwill, and this remains the case."