Self-driving tech for new Audi A4 Allroad
The new Audi A4 Allroad will be able to drive itself at speeds of up to 37mph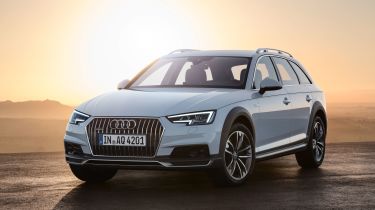 The new Audi A4 Allroad will feature the firm's latest four-wheel drive and self-driving technology when it goes on sale in the coming months.
Buyers of the new car - which will be shown at this year's Goodwood Festival of Speed - will be able to select an option which enables the A4 Allroad to drive itself at up to 37mph, with the car taking control of accelerator, brake and steering controls.
The 2016 A4 Allroad will also be able to run as a front-wheel drive car in normal conditions. When sensors detect grip is lost, they can instantly activate the car's four-wheel drive system.
While other cars already have similar features, the latest developments by Audi's Quattro division mean the car is able to predict when grip may be lost by monitoring driver behaviour, road conditions and the car's speed and steering.
These proactive and predictive all-wheel drive systems allow up to half a second for the car to prepare the four-wheel drive system, meaning it can activate almost the instant grip is lost. Additionally, the car monitors a wide variety of conditions every 10 milliseconds so it's able to react quickly.
As with previous A4 Allroad models, the new model features more rugged looks than the standard Audi A4 Avant on which it is based. Its suspension is raised by 34mm for increased ground clearance and additional underbody guards are fitted.
Allroad models traditionally feature a high equipment specification. The new car will count Audi's Virtual Cockpit display, which can provide digital speed, navigation and audio setting readouts as standard. Other highlights will include Audi's smartphone interface, rear parking sensors and an electrically-operated bootlid.
Buyers can order the A4 Allroad from April 2016, before the car's June launch date.