Extended warranty now available for Vauxhall owners
Newly launched extended warranty improves Vauxhall's after-sales offering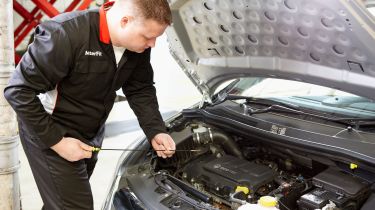 As standard, all new Vauxhall cars come with a three-year/60,000-mile warranty (although mileage is unrestricted in the first 12 months), which is about standard for the class.
Some manufacturers do offer more, however. You'll get more from Kia (seven years/100,000 miles), Hyundai (five years/unlimited mileage), Toyota and Subaru (five-year/100,000-mile cover both). Ford, Volkswagen, SEAT and Skoda all offer similar three-year/60,000-mile cover like Vauxhall, however.
Now though, Vauxhall owners have the option of extending their manufacturer warranty at an additional cost. There are three levels of cover to choose from: Essential, Standard and Complete, each of which covers more problems than the one below it. For instance, Essential cover only applies to the major components of the engine, gearbox and overall drivetrain of your car.
Standard cover, meanwhile, covers the mechanical and electrical failure of a large number of components, as well as a contribution towards a replacement car while yours is being fixed and, if necessary, a £100 contribution towards overnight accommodation, if your car breaks down and you can't get home. Top-level Complete cover adds 60 days a year of cover against breakdown in continental Europe.
All levels of cover are only available on Vauxhalls less than eight years old that have done less than 80,000 miles, while you can also choose how you pay for the extended warranty – either with an annual lump sum or on a monthly 'pay-as-you-go' basis. There's no fixed price for each level – it's determined based on the age and type of your car.
Cover can be arranged online, which joins the Vauxhall Service Plan, VX360° and My Vauxhall as the digital aspects of Vauxhall's aftersales services. Tamsin White, Vauxhall's aftersales communications and CRM manager, said: "The new Vauxhall Extended Warranty website gives our customers a quick and easy way to manage their cover, tailoring it to suit their needs."
The new Vauxhall Extended Warranty can be arranged now by visiting www.vauxhall-extendedwarranty.co.uk.