Watchdog: Owner hits the roof over leaking Mégane cabrio
Renault finally takes back coupé-cabrio after five visits to garage to sort array of issues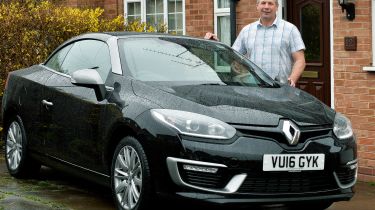 Convertibles can be great to own, especially when the sun shines, although the UK's traditionally foul weather can often spoil this enjoyment. And when the rain does fall, it's vital the folding roof works perfectly, otherwise you could ruin not just your hair but your interior, too.
Kelvin Jones, from Worcester, contacted Auto Express after roof problems caused his brand new Renault Mégane Coupé Cabriolet to spend most of its time in the garage rather than on the open road. "I bought the car in September 2015, but it's been to the garage five times since," Kelvin explained.
At first, the warning light on Kelvin's dashboard alerted him the hard-top roof was not properly closed. He added: "I also heard a knocking sound on the rear near side – it turned out the seat was incorrectly fitted."
The biggest issues, however, came in December, when after three visits to his local garage, Hylton Renault in Worcester, Kelvin discovered water inside the passenger side footwell, suggesting a leak.
After another visit to the garage and assurances that the car was fixed, Kelvin inspected the floor only to find it was still soaking. Both the dealer and Renault maintained that they could find no fault. Kelvin didn't agree, and said: "I wanted to reject the vehicle, but I was told that I couldn't because the car was fixed."
We felt the wet floor was evidence something wasn't right, so contacted Renault to ask it to investigate the case. Shortly after, Kelvin told us he had been offered a new car as a replacement. A Renault spokesman told us: "As a gesture of goodwill, Renault UK offered to replace Mr Jones' Mégane Coupé Cabriolet for another one of similar specification, and also offer a three-year service plan as an additional goodwill measure."
Kelvin accepted the offer, but it wasn't quite over yet. The new car refused to start and had to be kept in the garage for an extra week. Now, however, the car is in full working order and Kelvin is hoping to enjoy the great British summer in his convertible. However, he added: "The customer service I've received has been terrible. I'm not going to be buying another Renault."