Get more for your money with Dacia (sponsored)
Dacia has made a huge impact on the UK car market with cars like the Sandero and Logan MCV. We explain how and why…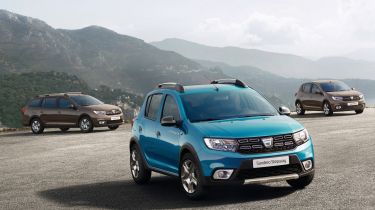 Nobody wants to pay more than they need to for anything. From our supermarket shopping to our mobile phone contract, we're always hunting for the best possible value and that's particularly true with a purchase as significant as a new car.
This is where Dacia excels, the Renault-owned affordable car brand has been one of the success stories of recent years on the UK and European car markets. It's made its name offering quality, reliable cars like the Dacia Sandero, Dacia Logan MCV and Dacia Duster that do the job for a whole range of different customers at prices that represent simply outstanding value for money.
Now Dacia has upped its game yet again with a set of revisions to its new model range. The Sandero is probably best known as the UK's most competitively priced new car but it's always had qualities that extend far beyond the remarkable price tag. Now it's better than ever with a new look, more practicality, even higher standard equipment levels and a host of technology additions.
Dacia: the multi-award winning car brand
This is an exciting time for Dacia, even by the high standards set in the years since its UK launch in January 2013 that have seen over 88,000 new Dacia cars bought by UK Customers. These remarkable sales levels amount to the most successful launch of a new car brand in the history of the UK car market.
Driving the Dacia success story has been the rapidly evolving model range and it's low, low prices, but also Dacia's innovation in terms of the ways it makes buying and owning its cars easier. Dacia has put its faith behind its products with a comprehensive 3-year/60,000-mile warranty that can be extended up to 7 years and 100,000 miles.
Customers love their Dacias and the brand's high levels of customer satisfaction have seen it place within the top 5 UK car brands for the last three years of the Auto Express Driver Power customer satisfaction survey. In 2016 Dacia was 2nd only to Renault for the service provided by its dealer network, beating almost every other UK car brand. Dacia also achieved top 3 positions in the reliability, running costs, practicality and car tech categories of the manufacturer survey, with the brand finishing 4th in the overall Driver Power Best Car Manufacturers table.
New Dacia Sandero: new look, even more value
Dacia has not been short of achievements and accolades during its short time in the UK car market but there's more to come. Now the Dacia story is moving on to the next chapter with the new Dacia Sandero range taking the UK's most affordable to new heights in terms of value. Behind the stylishly redesigned exterior are a whole series of improvements designed to underline the car's quality and practicality while building an array of technology features that are a match for anything in the segment.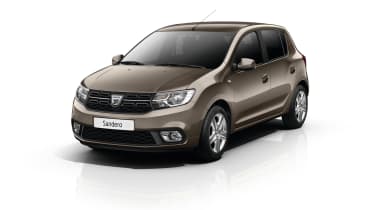 The new Sandero gains specification upgrades across the range with one-touch turn indicators and electric window switches, improved multimedia systems with DAB radio and Hill Start Assist. The Ambiance trim level now has air-conditioning as standard while the plush Laureate gets satellite navigation and rear parking sensors. A rear-view parking camera now appears on the options list for the first time, too.
Aside from the latest improvements, the core strengths of the Dacia Sandero remain. Despite its headline-grabbing price tag, it's a remarkably spacious car with room for five adults and a boot size of 320 litres that swells to a huge 1,200 litres with the rear seats folded down.
The Sandero's proven engine range features an innovative 3-cylinder turbocharged TCe petrol engine that can achieve 57.7mpg on the combined cycle but still delivers sprightly performance. Topping the line-up is a 1.5-litre dCi diesel that returns the Sandero's best fuel economy of 80.7mpg with CO2 emissions of just 90g/km. It's a remarkable performance and the Sandero's efficiency figures combine with the car's low insurance groupings and durable design to ensure it's a wonderfully low cost car to run as well as to buy.
Dacia Sandero Stepway adds crossover flavour
Dacia has also developed its range to bring customers the crossover SUV style that's redefining the car market at the moment. The Dacia Sandero Stepway replicates the impressive qualities of the Sandero hatch in a higher-riding, tougher-looking package that's winning plenty of admirers.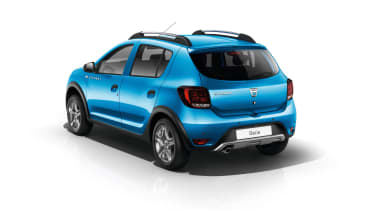 With the extra ground clearance, elevated driving position and easier access of a crossover plus the economy, practicality and value of the Sandero, the Stepway version has a lot to offer.
Dacia Logan MCV: shining practicality at low prices
If you're looking for the maximum space for the minimum cost, Dacia can help here too. The Dacia Logan MCV is a compact family estate car with a generous specification and a remarkable sub-£7,000 starting price.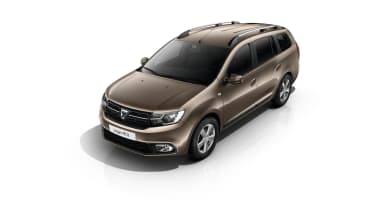 For the kind of financial outlay that would usually limit new car buyers to a city car, the Dacia Logan MCV has a comfortable seating for five adults and 573-litre boot space that grows to a vast 1,518 litres when you lower the rear seats.
Like the Sandero, the Logan MCV is adept at cutting your motoring costs. The entry-level 1.0-litre petrol engine version can be yours for just £6,995 and offers low insurance costs together with excellent fuel economy. Customers choosing Dacia's 1.5-litre dCi common-rail diesel engine, meanwhile, get a car with an official combined fuel economy of 80.7mpg and tax-busting CO2 emissions of 90g/km.
The Dacia story: giving you more for your money
When Dacia arrived in the UK car market in 2013, few could have predicted the ways in which the brand's fresh outlook and powerful focus on value were about to change the car buying landscape.
Today, multi-award winning Dacia sets the standard for automotive affordability with an expanding and increasingly high-tech product range. 88,000 Dacia's have found homes with UK customers and as bright as the past looks, the future looks brighter. From the Sandero and Sandero Stepway, through to the Logan MCV and the Duster SUV, Dacia is building on its affordable, simple, honest base. Maybe it's about time you started your own Dacia story...
Electric MG 4 to arrive in September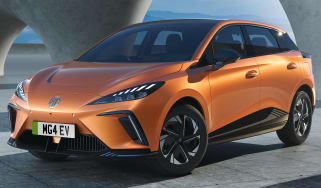 Electric MG 4 to arrive in September
Engine management light: top 5 causes of amber engine warning light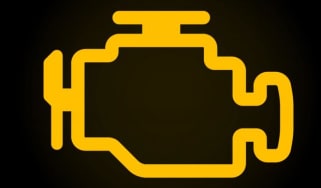 Engine management light: top 5 causes of amber engine warning light
Best new car deals 2022: this week's top car offers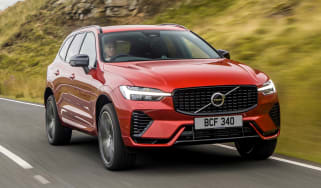 Best new car deals 2022: this week's top car offers