Renault Clio gets better than ever with advanced tech and new features - sponsored
We round up the long list of improvements Renault has made to its Mk4 Clio supermini inside and out, and detail the enhanced specs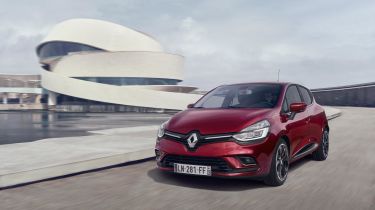 Every small car aims to offer big-car features in a compact package, but the Renault Clio has always been one of the few to truly achieve it. And this is a key reason for its success; not only has the Clio been the top-selling model in the Renault range for a number of years, it also consistently ranks among the best supermini choices for anyone looking to buy.
But with the new 2016 Renault Clio, the boundaries have been pushed further than ever, as the latest technology and improved features have been adopted to make urban motoring easier. So exactly how is the upgraded Clio Mk4 and better?
Renault Clio quality and design updates
For starters, the car has a higher-quality feel inside. Designers have introduced materials usually reserved for top-of-the-range Renaults, from softer-touch plastics to more subtle chrome finishes. A new steering wheel and LED interior lighting also feature, giving the cabin a more refined, premium ambience.
This backs up the fresh exterior design achieved by the Renault Clio facelift, defined by the distinctive new lighting signature at the front and rear of the car. On higher specification versions, the Clio offers piercing full LED Pure Vision headlights, which deliver 20 per cent more power than conventional halogen bulbs, while reducing glare at the same time. They make driving at night safer than ever and look great, especially when combined with the C-shaped daytime running lights. On Renaultsport Clio models there's a unique headlight treatment dubbed RS Vision that co-ordinates the car's fog, cornering and side lights to give optimum vision in all driving conditions.
The striking lights aren't the only head-turning feature of the new Clio. There are new upper and lower grilles up front, a new bumper at the rear and fresh wheel designs. Plus, Renault has introduced a whole host of new customisation options to allow buyers to build on the supermini's stylish design and give their car a look all of its own. There are more than 30 colour combinations for the new car, while drivers also have five roof decals and two exterior customisation packs to choose from.
Technology at the heart of the new Renault Clio
Of course, it's not just design that can give a small car its big-car feel; technology can play a crucial role, too. And the raft of innovative new features as part of the improved specs on all models really does make city driving easier in the latest Renault Clio.
For starters, tight town centre parking spaces are no longer a challenge; this class-leading supermini has always been able to squeeze into small gaps because of its neat, compact dimensions, but Hands Free Parking takes the stress out of it. This technology is often reserved for larger, higher-spec models, and lets you select whether you're looking for a parallel, bay or diagonal parking space; as you crawl along below 20mph, the system will detect gaps that are big enough. Once you decide where you want to park, Hands Free Parking takes control of the steering wheel to guide you into the space, leaving you to control the clutch and throttle. Simple.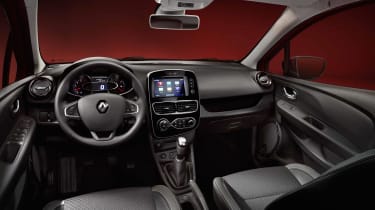 There's now no excuse for taking a wrong turn in the chaos of heavy traffic, either, as the R&GO system features on the new Renault Clio, bringing navigation to even entry-level models. Alternatively, go for a mid-level Clio, and the great-value MediaNav system comes as standard, bringing a seven-inch touchscreen with sat-nav and traffic information, as well as Bluetooth connectivity, DAB radio and the option of a rear view camera.
Top-spec models are upgraded to the sophisticated Renault R-LINK Evolution set-up. This is a customisable tablet-style seven-inch touchscreen featuring TomTom navigation with real-time traffic information. In addition, this top-level system offers voice recognition – so setting a destination is a simple, hands-free affair – and can be used to display photos and play videos while the car is stationary.
And when you connect your phone to the Clio's MediaNav or R-LINK system to play music on the move the sound quality can now reach new heights. For the first time on a Renault in this class, the Clio is available with the option of the BOSE premium sound system – another big-car feature filtering down from further up in the range. The high-quality acoustic experience promises to soothe away the strains of driving in traffic, whether you're listening to Beethoven or The Boomtown Rats.
Renault Clio efficiency, performance and safety gains
The advanced technology continues under the bonnet, where Renault offers a comprehensive range of petrol and diesel engines. The cleanest is the 1.5 dCi ECO diesel, which grabs headlines with its 82g/km CO2 emissions and 88.3 combined mpg fuel consumption figures. But even the 1.2 TCe 90 ECO petrol model is impressively efficient for its class, claiming 94g/km and 67.3 combined mpg.
Buyers more interested in performance than fuel economy can choose from the thrilling new higher-powered engines, the TCe 120 petrol of the DCi 110 diesel. If that's still not enough, there's always the Renaultsport hot hatch models, which feature a powerful 1.6-litre turbocharged petrol engine and sprint from 0-62mph in as little as 6.6 seconds.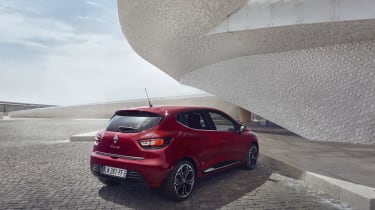 Yet no matter which version of the new Renault Clio you choose, you won't feel as if you're making any small car compromises. It comes as a five-door only, so access to all areas of the supermini is easy, and whether you're getting in the front or rear those compact dimensions hide loads of interior space. The 300-litre boot is a practical shape, too, and can swallow a surprising amount with the split/fold back seats in place; when they're dropped down, the capacity increases to an impressive 1,146 litres. That figure puts the Clio not far behind models in the class above for boot space.
The long list of safety equipment also reads like that of a bigger, higher-spec car. Renault continues to set the benchmark in this arena, and every Clio features six airbags, stability and traction control, a speed limiter, hill start assist and cruise control as standard. As a result of its impeccable safety credentials Clio insurance group ratings start from as low as group seven. So buyers are guaranteed low premiums, on top of low fuel and tax costs; and with the help of a Renault pre-paid service plan, covering three years from £299, maintenance is great value, too.
You're getting a big deal with this small car, then. In every respect, the new Renault Clio is a better supermini than ever before.
Top 10 best cheap-to-run cars 2022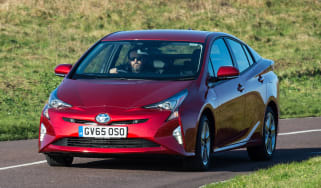 Top 10 best cheap-to-run cars 2022
UK road tax 2022: VED tax rates and bands explained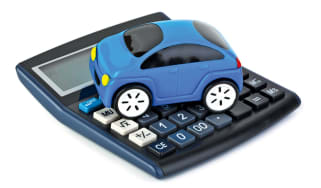 UK road tax 2022: VED tax rates and bands explained
Best new car deals 2022: this week's top car offers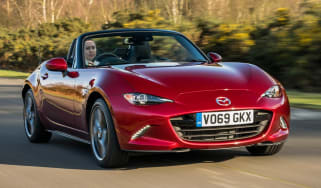 Best new car deals 2022: this week's top car offers