Owner left fuming by rusting Nissan Navara
Heavy patches of chassis rust appear on two-year-old pick-up, but Nissan says it's normal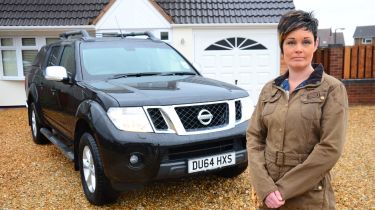 The winter months are a tough time for cars, as the bad weather and salty roads often increase chances of rust. And while many older models are particularly at risk, you don't expect a two-year-old car with 12,000 miles to develop heavy bouts of chassis rust – especially when it's advertised as a tough off-roader and a workhorse.
But this is exactly what Ken Perrins found in his wife Emma's 2014 Nissan Navara. Ken, from Great Wyrley, West Midlands, said: "All of the welding on the rear of the chassis is showing corrosion that is now blistering and going on to the chassis steel."
Thinking he could claim under Nissan's 12-year anti-corrosion warranty, Ken had the car inspected by his local dealer, Brindley Nissan. "It said it believed there was a warranty claim," Ken told us. But to Ken's surprise, Nissan UK said the car couldn't be repaired under warranty, citing the rust as normal to age and mileage.
Ken also had the car inspected by an independent garage, R S M Car & Commercials, in Wolverhampton. The report highlighted a manufacturing fault, and said the "chassis should not be in this condition after just two years of normal service".
Carbuyer's sister site Auto Express has previously reported on several Navara owners who had complained to Nissan about rust, with some having cars repaired under warranty. We contacted Nissan and asked why it would not do the same for Ken.
Its spokesman said: "Upon inspection, the vehicle chassis was deemed to be structurally sound, with only surface oxidisation on exposed areas. Whilst this has affected the cosmetic appearance, it doesn't compromise the vehicle's structural integrity. The level of surface oxidisation on the vehicle's chassis is commensurate with its age and mileage, and so no remedial action was required."
Ken remained unconvinced, telling us: "I have been contacted by three owners who had the same issues with their Navara, one back in 2009. Nissan did nothing on his vehicle until the chassis snapped in 2014.
"For the chassis to have this much corrosion on for its age and mileage is very disappointing." Ken is now looking to reject the car under the Sale of Goods Act.