White cars dominate sales charts
White is the most popular new car colour, but black is hot on its heels and yellow makes a surprise top 10 entrance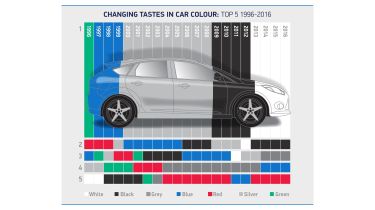 The most popular new car colour is white. Over 550,000 white cars found UK homes last year, with black cars being nearly as popular and grey taking the bronze medal.
In a hotly contested battle to become top of the charts, white pipped black by just 9,467 cars. This means that despite reigning supreme for four years, white's pole position is far from secure; black cars were just 1.5% less popular.
Grey, meanwhile, found favour with just over 460,000 customers, which was enough to secure it third place – although a further move up the charts would require a significant change in fortune. Blue, red and silver follow grey, taking fourth, fifth and sixth places respectively, with each of those colours adorning well over 200,000 new cars in 2016.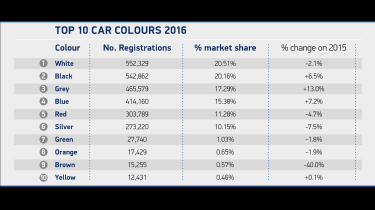 The rest of the top 10 is populated by significantly less popular colours: green's position at number seven sounds impressive, but only 27,740 buyers opted to have a green car and the gulf between sixth and seventh place remains vast. Almost 95% of all new cars sold in the UK in 2016 were either white, black, grey, blue, red or silver.
Yellow, meanwhile, mounted an impressive attack on the charts: over 12,000 buyers opted for this colour. That was enough to see yellow squeak into number 10, and its surge represents a twofold increase in popularity compared to 2011. Pink was another big winner thanks to an 82.7% rise over last year, although only 3,527 buyers were brave enough to choose this colour.
Colours falling out of favour with UK buyers include brown, which suffered a 40% decline in popularity, making its position in the top 10 look ever more tenuous. Beige had similar misfortune thanks to a 27.6% fall in favour, while silver – a former darling of the car-colour world, suffered a drop in popularity of almost 10% – although its position at number six is unchanged from last year.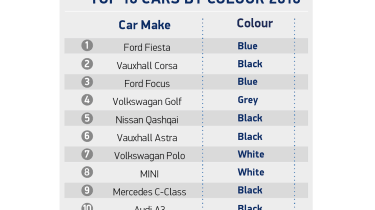 White's status as the colour of choice for new cars isn't due to other paints costing extra, manufacturers say: many white paint finishes are now pearlescent, meaning customers must pay extra for them.
What colour should my new car be?
Any colour you like, in theory – but looking at the top 10 most popular car colours gives a clear indication of buyers' preferences. Secondhand buyers are likely to have similar tastes.
Tesla Cybertruck finally delivered: specs, prices and UK availability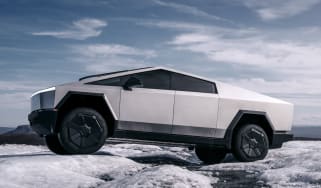 Tesla Cybertruck finally delivered: specs, prices and UK availability
Engine management light: top 5 causes of amber engine warning light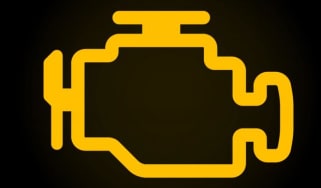 Engine management light: top 5 causes of amber engine warning light
Best new car deals 2023: this week's top car offers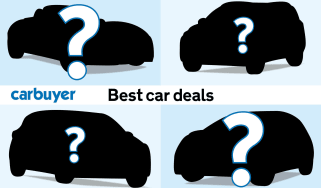 Best new car deals 2023: this week's top car offers