New BMW 5 Series Touring opens up
More space and technology for executive estate; split-opening boot remains
The wraps are off the new BMW 5 Series Touring estate ahead of its official unveiling at the Geneva Motor Show in March. Much like its saloon sibling, the latest 5 Series Touring promises customers the latest in executive luxury and equipment, but adds the extra practicality implicit in an estate car.
All models will have sat nav, leather seats and LED headlights and the new 5 Series Touring is fractionally longer, wider and taller than the model it replaces. Like the saloon, an automatic gearbox is standard – there's no manual available.
BMW 5 Series Touring: design
While about 50% of the new 5 Series Touring's metalwork is identical to the saloon's, the addition of an estate boot arguably streamlines the overall shape and gives more of an impression of movement. The air vents behind the front wheels are functional and designed to minimise turbulence, while the active air flaps behind the radiator grille open and close as required. This means they can either allow the engine to breathe more freely or close to minimise drag, thus improving efficiency. The twin rear exhaust pipes are standard and come in rectangular or circular form depending on how the car is configured.
The new 5 Series Touring is 36mm longer than the model it replaces, while it's grown fractionally in height and width – with interior space being the net beneficiary. The 570-litre boot is a mere 10 litres larger than before (although space with the seats dropped is up 30 litres) and it's still some way off the Mercedes E-Class Estate's 640-litre capacity – but the Mercedes doesn't come with that handy split-opening bootlid.
Engines
Four engines will be offered from launch, split evenly between petrol and diesel. The cheapest of these will be the 187bhp BMW 520d diesel, which promises a 0-62mph time of 7.8 seconds, together with fuel consumption of 65.6mpg. The 520d is a huge seller in the UK and company-car drivers will be pleased with its low 114g/km CO2 emissions, which translate into a Benefit-in-Kind (BiK) rate of 22%.
Upgrading to the 261bhp BMW 530d costs around £8,000 and shaves two seconds off the 0-62mph time, while denting economy by 10mpg or so. BMW's xDrive four-wheel-drive system is available with the 530d and this adds £2,000 to the asking price while reducing economy by a further 5mpg.
Those after a petrol engine can choose from either the BMW 530i or BMW 540i. The first of these costs a reasonable £4,000 more than the 520d, while its official fuel consumption of 46.3mpg is pretty decent for such a powerful engine. It's worth noting, however, that unlike the old silky smooth six-cylinder 530i Touring, the new 530i comes with a turbocharged four-cylinder engine – that's the price you pay for improved economy.
BMW's xDrive four-wheel-drive system will be offered as an option on the 530d and comes as standard on the range-topping 540i. This last model isn't expected to be a big seller, partly as it's the least efficient engine (pegged at 37.6mpg) and partly because it costs – near as makes no difference – £50,000.
The new UK road-tax system (applying to cars registered from 1 April) means many new 5 Series Touring owners will be paying £450 a year to tax their car, comprised of a £140 flat rate and a £310 surcharge for the first five years of ownership levied on cars costing more than £40,000 (including options). Only the 520d version escapes the surcharge, but even then you'll have to be careful with adding options if you want to stay under the threshold.
Dashboard and interior
The new 5 Series Touring's interior echoes its exterior and BMW's evolutionary approach is plain to see. That's no bad thing, however, as it means you get a premium, driver-focused dashboard, together with a large iDrive infotainment screen and controller, which we consistently rate as one of the best around.
Spec the 'gesture control' option and you can even do such things as reject a phone call by dismissively waving your hand in the air. Having thoroughly vetted the 5 Series saloon, we can say with some confidence the Touring model will be beautifully built and offer seamless ergonomics. It's a shame the infotainment screen doesn't sleekly retract, but in fairness BMW isn't alone in fixing its screen atop the dashboard.
Trim levels & equipment
The new 5 Series Touring's options list is lengthy and includes such perks as an opening panoramic sunroof, a remote self-parking system and rear-wheel steering, but standard equipment is strong and the trim line-up is simple.
SE cars come with the leather, sat nav and LED headlights mentioned above, as well as a 10.25-inch infotainment touchscreen, self-levelling rear suspension (which keeps the rear of the car flat, however close you come to reaching its 720kg payload limit), individually folding rear seats and autonomous emergency braking.
Go for the M Sport package and you'll get sports suspension, sharper steering, larger alloy wheels, upgraded interior details and lashings of the popular M Sport logo.
Price & on-sale date
The BMW 5 Series Touring range starts at £38,385 for the 520d, rising to £49,460 for the 540i xDrive. Order books open this month.
Nissan Ariya vs Volvo XC40 vs Volkswagen ID.4 - which is best?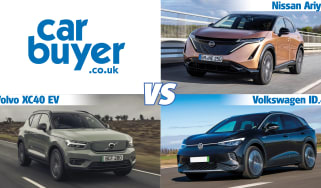 Nissan Ariya vs Volvo XC40 vs Volkswagen ID.4 - which is best?
Best new car deals 2022: this week's top car offers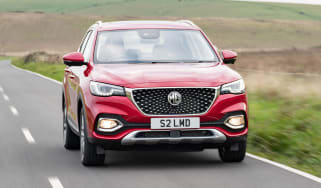 Best new car deals 2022: this week's top car offers
Top 10 best electric family cars 2022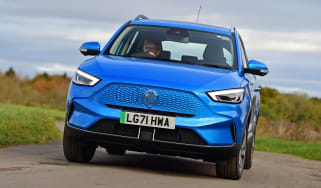 Top 10 best electric family cars 2022