Owner rails at Renault over new SUV's paint
Carla fuming after maker claims 'grit' in Kadjar's finish is fallout from nearby railway track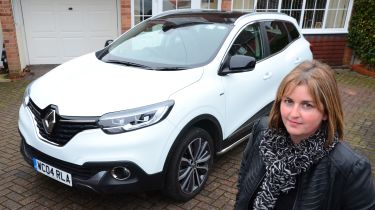 Nothing takes the shine off a new car more than dodgy paintwork. So imagine one reader's dismay when her new Renault Kadjar was delivered with "grit" on the bodywork.
Carla Lavender-Ward of Tipton, West Midlands, collected the 16-plate SUV from Renault Wolverhampton back in April and said: "I spotted what looked like dimpling and grit under the paint, alongside some other damage and scratches. You just don't expect this with a new car."
The dealer booked the Kadjar in for repairs, but Carla told us the respray was bodged by its bodyshop, adding: "There was overspray, and in the sunlight, I noticed the gritty paint was a problem on every panel."
So Carla contacted Renault, which agreed to send someone out to inspect the car. But when five weeks had passed and no inspection was arranged, she told Renault Finance she wanted to reject it.
When her request was refused, Carla called us, and said: "Renault was suddenly claiming there was no fault, and the finance company wouldn't cancel the agreement without that acknowledgement."
We contacted Renault to find out what was wrong with Carla's paintwork and why it was refusing to help. Its spokesman said: "The paintwork was affected by chemical fallout from the atmosphere and not covered under the manufacturer paintwork warranty." It directed us to a detailing website which claimed this can be caused by anything from acid rain to tree sap or metallic fallout. The Renault spokesman added: "The customer lives close to a railway line and that can often be a cause of metallic airborne particles."
Carla claims other cars in her household don't have the problem and argued it was a manufacturing fault: "I've had three courtesy cars from the dealer since buying this Kadjar, and all three had paintwork issues."
Renault did agree to swap Carla into another car but she said the replacement she was offered also had paintwork problems. Renault has now agreed to cancel her finance agreement, and return Carla's £2,000 deposit and contribute £1,000 towards her finance payments to date. Carla said: "I can't thank you enough."