Faulty traffic updates leave owner in a jam
Leslie took 500X to Fiat dealer four times to investigate troublesome Uconnect system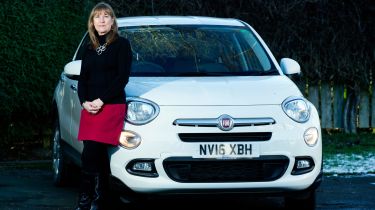 Live traffic updates on a sat-nav are a welcome feature to ensure you don't get caught in jams. And makers are now using connected cars to offer the technology as standard, rather than requiring you to use a smartphone app or standalone device.
So when the convenient up-to-the-minute information isn't being supplied properly, it can be extremely frustrating, especially if the setup hasn't been working since you bought the car new and doesn't look likely to.
That's what prompted Leslie Hogg, from Newcastle, to get in touch with us about her Fiat 500X, which she'd owned since July. It had been to local dealer Springfield Fiat four times for investigations into why the Uconnect system wouldn't work, but no solution had been found.
A new USB drive did little to solve the problem, while calls and e-mails to Fiat customer services and the office of the Fiat managing director failed to deliver, too.
When we contacted Fiat, it said it had escalated the problem to the technical team at the factory in Italy. Leslie said: "I have re-paired my phone with the car, reinstalled Uconnect and guess what? It didn't work.
"The dealer gave me some settings to press which I have done but still no joy. I don't understand why they cannot just replace the whole radio and sat-nav unit. It has been five months and I'm in despair."
We chased Fiat again to push the case and it promised it would book Leslie's car in for a head unit replacement and a fresh system reset when the part was in stock. We also quizzed Fiat on compensation based on the inconvenience Leslie had experienced.
After two weeks, the car was finally fixed, while Fiat also offered a three-year servicing package as a gesture of goodwill. A Fiat spokesman confirmed: "We are sorry that this issue took longer than expected to resolve. It seems to have been a combination of the radio head unit and a link issue with the TomTom Live service, although we can't be 100% sure of the exact cause.
"An offer of goodwill has been made in recognition of the customer's patience." A delighted Leslie added: "The sat-nav is working and Fiat's offer is quite generous."