Fiat Panda City Cross unveiled
Panda City Cross offers mini-SUV looks with city-car running costs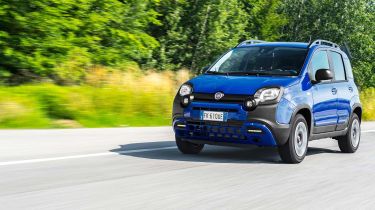 Fiat has revealed its new Panda City Cross, which combines the rough-and-tumble looks of the Panda Cross with the two-wheel-drive layout of the standard car. It's a car aimed squarely at high-riding small cars like the Suzuki Ignis and Dacia Sandero Stepway.
Much like the Panda Cross, plastic bumper mouldings all round and contrasting black plastic trim on the mirrors, roof bars and door handles give the City Cross an SUV-like appearance, along with the same 15-inch wheels fitted to the four-wheel-drive model. You can choose from two new colours to further set your City Cross apart, though: Minimal Grey and Electronica Blue.
The City Cross' interior gets a touch of ruggedness, too, with black and grey seats, matte black dials and a grey plastic dash. There's the option of a 'copper' dashboard as part of the City Cross Style pack, which also brings exterior touches like red tow hooks, 'ultrashine' roof bars and a skid plate, all of which help enhance the car's SUV-like design.
Like the Panda Cross, the City Cross is powered by Fiat's trusty 68bhp 1.2-litre petrol; without the Cross' four-wheel-drive system, the City Cross is likely to be cheaper to run, with claimed figures of just over 51mpg and 129g/km of CO2.
The City Cross is a good choice if you love the idea of a city car with tough SUV styling but don't require four-wheel-drive. In fact, unless you live up a mountain or in an area with heavy snowfall, it's likely that the City Cross will be the more sensible option. At £12,995, the City Cross is about £1,000 cheaper than the standard Panda 4x4 and just over £2,700 cheaper than the four-wheel-drive Cross model.
If you don't need four-wheel-drive and can take or leave the City Cross' chunky styling, then a standard Panda still represents a great-value city car choice. The standard car also benefits from the option of the superior 0.9-litre TwinAir petrol engine, with prices starting at just over £11,000.
The Panda City Cross is available to order now.