Watchdog: Owner facing £3k bill over Jag's rusty doors
Maker initially refuses to help even though corrosion started when XF was under warranty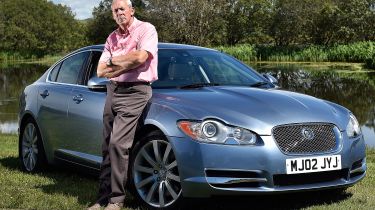 Old British cars were known for being rusty, but you wouldn't think that would be the case nowadays. The latest anti-corrosion techniques mean modern vehicles are far less likely to decay, which is what Jim Jamieson of Tarbolton, Ayrshire, thought when 
he bought his 2009-registered
 Jaguar XF in December 2014.
After a few months, he discovered blisters on the front doors, which he initially believed to be small paintwork imperfections. But the problem worsened, so he mentioned it to his local dealer, Parks Jaguar, during a service. Staff suggested taking it to an approved body shop, around 40 miles away.
When the driver's side electric window failed, Jim removed the door trim to investigate. "I was shocked to find severe corrosion within the door and there was also a considerable amount around the electric window mechanism," he said.
By the time the root of the problem had become clear, it was outside the six-year, factory corrosion warranty. "I contacted the dealer that supplied the car and was advised to speak to Jaguar's customer resource centre, which then told me to contact an approved body shop," said Jim, who followed the manufacturer's instructions and received a repair estimate of £2,877.60 plus VAT from another dealer, Mitchell Inglis, in Glasgow.
The maker refused to help with the cost because the car was out of warranty, even though the rust had clearly set in while the cover was still valid
– something Taggarts Jaguar in Glasgow confirmed after a fourth inspection.
We got in touch with Jaguar and asked why it wouldn't cover a fault that had begun while the car was still under warranty. The company kept us, and Jim, waiting for almost two months – and insisted on further inspections – before it finally agreed to replace all four doors.
A spokesman said it was "a very unusual case and [the customer services team] has never seen anything like this before, hence the full investigation.
"We are in the process of fixing the customer's car and investigating this
 case further." Jim was absolutely delighted with the outcome and told us:
 "I cannot thank you enough for your help."