Smart Vision EQ ForTwo previews autonomous electric future
Self-driving two-seater does without driver controls, suggests passengers to pick up, drives itself to charging stations
This is the Smart Vision EQ ForTwo, a new two-seater autonomous electric concept car from Mercedes' Smart division.
Sharing its dimensions with the Smart ForTwo city car, the Smart Vision EQ does so many things so differently, it's best thinking of it as a future mobility solution rather than as a car in the classic sense of the word.
With no steering wheel or pedals, customisable LED lights that can resemble eyes and sophisticated 'Level 5' fully autonomous systems, there's precious little about the Smart Vision EQ that's conventional.
While it has four wheels, a roof and doors, these last items can display weather forecasts, news and other broadcasts when the car is parked.
Electric and autonomous driving systems
The Smart Vision EQ ForTwo isn't intended to be 'owned' in the conventional sense, but is intended as a ride-sharing mobility solution, delivered to consumers who sign up to Smart's service. It's powered by a 30 kWh lithium-ion battery pack and an electric motor and, when not in use, will drive itself to a charging station to inductively replenish its batteries, feeding energy back into the grid when conditions allow.
As you may be able to tell by now, the Smart Vision EQ ForTwo is very much a concept car – and even that's a bit of a stretch. Instead, consider it a technology showcase from Mercedes and Smart, with numerous futuristic features that may – or may not – make it into future cars.
Ride-sharing and entertainment
The Smart Vision EQ ForTwo will collect its first passenger when called upon by smartphone, and a second passenger can request it to stop for them if the primary passenger's journey logistically allows it. It also knows when events are happening locally, and multiple Smart Vision EQ ForTwos will 'swarm' around areas of high demand, ready to pick up passengers. The 44-inch black screen above the front bumper can display messages, letting users know they're getting into the correct car. It can also indicate if there are one or two passengers on board.
With one passenger on board, the Smart Vision EQ will alert them should another user request a ride, though this request can be declined if desired.
Assuming any such request is approved, the two users will be shown if they have any cultural interests in common via the 24-inch central dashboard screen, facilitating and easing conversation and interaction. The two occupants sit on a white (synthetic) leather bench seat, complete with retractable armrest, while their luggage can be stored under the seat, secured by blue rubber straps.
Engine management light: top 5 causes of amber engine warning light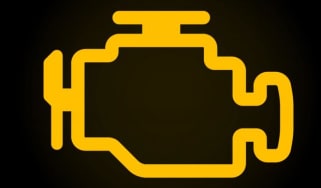 Engine management light: top 5 causes of amber engine warning light
Best new car deals 2022: this week's top car offers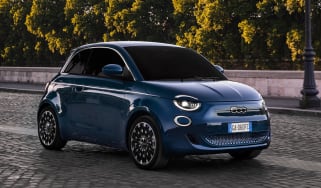 Best new car deals 2022: this week's top car offers
Top 10 cheapest electric cars 2022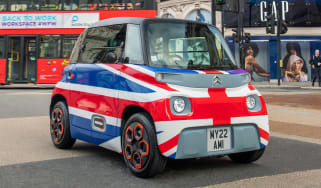 Top 10 cheapest electric cars 2022