Watchdog: Dealer can't explain how VW Amarok 'drove itself'
Pick-up 'took control' of throttle before engine failure; garage couldn't say what happened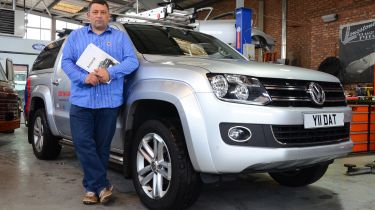 Should you accept that your faulty car is fixed if your dealer is unable to explain what caused the problem in the first place? That was the dilemma facing reader Dave Tassell, of Worcester, after his brand-new VW Amarok suffered a complete engine failure, just five months after delivery.
He said: "In the first week I noticed it was behaving strangely; revving and changing up and down the gears; basically powering itself, without any input from the throttle."
Dave said supplying dealer Listers VW Van Centre, in nearby Droitwich, was unable to find a fault. Around 2,000 miles later in May, the problem got worse. "The vehicle took off at 60mph without the throttle being pressed," Dave said. "I pressed the brakes, but the gearbox shifted down and overpowered them. Suddenly there was a big bang, the engine fell silent and I was left with no assisted brakes or steering."
VW replaced the engine under warranty, but Dave argued he didn't want the Amarok back because Listers still couldn't explain the fault. He said: "The dealer doesn't know what caused it, and cannot give me any assurance that it won't happen again."
Dave thought his pick-up had the same auto problem that we reported was affecting a Touareg recently. That car's owner complained the box was shifting without any throttle input, too.
VW claimed the vehicles use different gearboxes, and the issues are unrelated. 
A spokeswoman for the company said the technical report on Dave's car revealed "there was a turbo fault (caused by excessive 'play' in the turbo shaft). This led the turbo seal to fail and oil to be injected into the intake system. This caused the engine to over-rev and effectively destroy itself".
She added that although the technicians were "as confident as they can be that the turbo issue was the cause of the fault", it's "sometimes impossible to be 100% certain", and that's probably why the dealer was "reluctant" to share the diagnosis.
Dave agreed to take his car back, and VW said it would "give the vehicle a further technical check" before returning it, and offered a one-year extended warranty on his Amarok, as a gesture of goodwill.