PSA ownership could pave the way for Vauxhall exports
PSA boss says Vauxhall cars could be exported, if there's profit to be made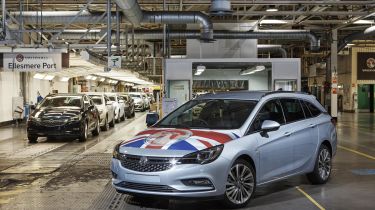 Vauxhall-badged cars built in Britain could be sold overseas, according to the boss of the PSA group, the new owner of the Luton-based company.
Since 1 August 2017, Vauxhall and Opel have been a part of the PSA group, which also includes Peugeot, Citroen and DS. Prior to now, the Vauxhall badge has been largely restricted to cars sold in Great Britain, with the Opel badge appearing on models sold on the continent – including many built in UK plants.
But at the 2017 Frankfurt Motor Show, PSA boss Carlos Tavares told us that Opel CEO Michael Lohscheller has been tasked with presenting a Vauxhall/Opel turnaround plan in November. "We at PSA are not building the turnaround plan, Opel teams are building the turnaround plan," said Tavares. "We support that with our best practices from our Back In The Race plans, but it is their plan."
Addressing concerns about the profitability of the two famous brands, Tavares continued: "Everything is open – we are very pragmatic people. It's all about efficiency – if we're highly efficient, we'll be profitable. And if we're profitable, we'll be sustainable. And if we're sustainable, nobody has to worry about their job."
Tavares was transparent about PSA's plans for the Vauxhall and Opel brands, explaining that making money was the primary objective. When asked if this could mean UK-built Vauxhall models being exported to other markets, he replied "If it makes money. It's all about the manufacturing costs – can you build a business plan that flies or not?
"Exporting for us is very good, as long as the business plan flies. People get very excited about exports, but forget one thing: it can backfire on them because if you want to export, your manufacturing costs need to be really competitive. So if you want to export, that's fine, but please fix the manufacturing costs and please make sure the quality is sky-high so you can build a business plan that flies."
Hinting towards plans for future Vauxhall and Opel developments, Tavares revealed that the reduction of CO2 emissions is a big objective and will mean PSA technology being used in Vauxhall and Opel cars. He said: "We must have a more robust CO2 roadmap," and implied that GM-developed models are expected to move onto PSA platforms as soon as possible.