Mitsubishi e-Evolution focuses on technology
Hi-tech electric Mitsubishi e-Evolution Concept revealed at Tokyo Motor Show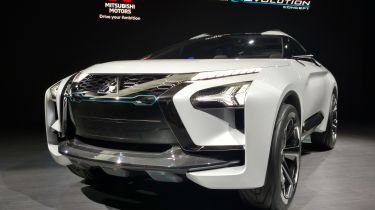 A concept that draws on a famous and celebrated name from Mitsubishi's history has been unveiled at the 2017 Tokyo Motor Show.
That name is 'Evolution' and it appeared on a series of powerful turbocharged saloon cars with an avid following on road and rally stage alike. Enthusiasts have eagerly awaited its return after an absence of several years, but the latest car to bear the name is rather different to those that went before.
The Mitsubishi e-Evolution Concept is more SUV than saloon and is intended to showcase the latest electric-vehicle thinking from the Japanese company, previewing its new "drive your ambition" brand strategy. The concept is said to use artificial intelligence (AI) in an effort to best deploy its considerable electric power on a variety of road and terrain conditions, no matter what the weather.
The all-electric e-Evolution Concept employs a "high-capacity battery system" which provides power to three "high-torque and high-performance" electric motors. The front wheels are driven by one of these motors, while the rears are individually powered by motors controlled by a torque-vectoring active yaw system. The promise is "crisp and nimble handling that faithfully mirrors driver intent".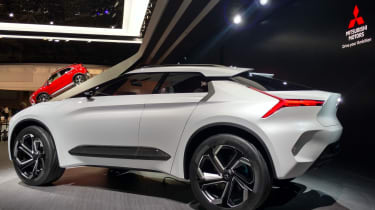 Driver involvement is at the core of the e-Evolution Concept and technology is employed to sharpen whatever skills the person at the wheel might have. The car's sophisticated AI system is said to tune into their intent, supporting "drivers of all abilities". This is claimed to make car control safer and easier to deliver an exciting driving experience to a broad audience.
Practiced drivers are promised something to look forward to in the guise of a 'coaching function'. This is claimed to transfer knowledge to the driver in an unobtrusive manner. First establishing their skill level, a training programme is formulated by the AI system, with advice offered both vocally and visually, through a large dashboard display. The claimed result is a car that behaves the way each driver wants, intensifying the driving experience irrespective of driver ability.
The AI Personal Assistant interprets human voice through a natural-language processor in order to correctly understand commands given. It's claimed to then respond with an easily understood, natural way of speaking, accounting for ambient noise and delivering the information needed for safe, stress-free driving. It can also support communications between driver and home.
Even multiple voices can be accounted for – the e-Evolution Concept employs a 'voiceprint' system to recognise individual passengers and learn from each person's speech and behaviour to provide services that match their tastes and requirements. The AI system is supported by the cloud, with information processed on-board if network reception drops out.
No word has been given on if – or when – technology introduced by this concept will be seen in a production car, but there's a strong possibility that aspects of its physical design will influence future Mitsubishi models.
Top 10 best cheap-to-run cars 2022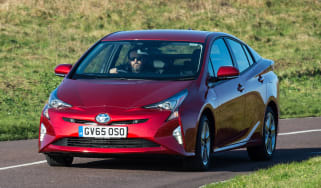 Top 10 best cheap-to-run cars 2022
UK road tax 2022: VED tax rates and bands explained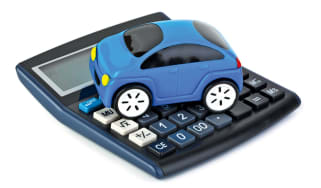 UK road tax 2022: VED tax rates and bands explained
Best new car deals 2022: this week's top car offers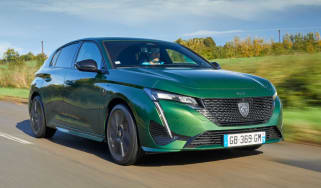 Best new car deals 2022: this week's top car offers