2018 Toyota RAV4 to gain hybrid power across range
RAV4 Hybrid – previously reserved for plusher models – is now offered with all trim levels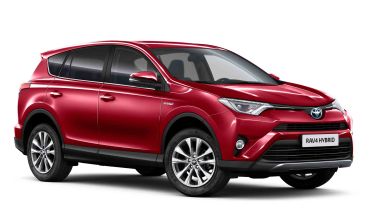 The Toyota RAV4 Hybrid is to be made more accessible from October as Toyota offers it across the entire RAV4 range. Previously reserved for higher trim levels, the RAV4 Hybrid will soon be available in Icon trim.
Toyota is taking the opportunity to simplify and improve the RAV4 range at the same time. When the 2018 RAV4 arrives in showrooms, the Active model will no longer be offered, with Icon kicking off the range. Icon will also be joined by a new sat-nav-including Icon Tech trim. Design and Excel cars will continued to be offered, although the Business Edition and Business Edition Plus RAV4s are set for the chop.
Standard equipment gets a boost, with Icon now offering keyless entry and go, plus a powered bootlid. Excel models, not to be outdone, now come with blind-spot monitoring and rear cross-traffic alert – a safety system that scans behind the car when reversing, warning you of potential obstacles. A 360-degree bird's-eye parking camera will be added to the RAV4's option list for 2018, while a new paint colour – called Tokyo Red – joins the range, too.
Which grade you choose will continue to affect the RAV4 Hybrid's drivetrain, with front-wheel drive standard across the range and four-wheel drive optional with the Design and Excel models.
Although the 2018 RAV4 will continue to be offered with conventional 2.0-litre diesel and 2.0-litre petrol engines, Toyota says roughly two-thirds of RAV4 customers go for the Hybrid model, so this new move makes sense. The RAV4 Hybrid features a 2.5-litre petrol engine and an electric motor, which produce 195bhp between them.
2018 Toyota RAV4 price and on-sale dateDue to the demise of the Active model, from 2018 the RAV4 range will start with Icon trim. Pairing this with the 2.0-litre diesel engine costs £27,450, while the Icon Hybrid is £29,005.
The RAV4 range previously started at just under £25,000 thanks to the Active model, so if you're reading this before 1 October when the updated RAV4 goes on sale and Active is dropped, now might be a good time to bag a bargain.