Volkswagen T-Roc design secrets revealed (sponsored)
An in-depth look at the T-Roc and and an exclusive Q&A with the lead designer
The new Volkswagen T-Roc has been designed to appeal to a wide-ranging and far-reaching audience. It's a car that mixes the style of a sports car with the practicality of an SUV – mated to all the latest technology and fuel-efficient engines.
Speaking from Volkswagen's Frankfurt Motor Show stand, Marco Pavone, head of exterior design at the company, talked through his favourite features and explained how the brand has become an expert in mixing form with function.
Q: How does it feel to see the all-new Volkswagen T-Roc on the stand at the Frankfurt Motor Show?
A: It's amazing to see the whole thing here. I'm really proud. We've been working with this car for the last three or four years and it's a great achievement to see the product on the stage now.
Q: What was your inspiration behind the new Volkswagen T-Roc?
A: We wanted to do something really 'lifestyle'. But not just like a toy; it has to be something really masculine. It's a core product for Volkswagen, so it has to still look serious and solid. But it should be a car that is usable for all kinds of people.
Q: So what kind of things did you have as inspiration on the drawing board when you started the project?
A: We had some cool cars, some nice SUVs and some sports cars. But we always had in mind that this car needed to be young and dynamic. And I think we've achieved everything we had planned for it.
Q: Who did you have in mind when you were designing this car?
A: We do cars for young people, for old people, for everybody; and that's what we had in mind. We never do a car for one niche of people. And although the car has a young appeal, I think everyone can get in and out the car very easily – it is quite practical, it is quite functional. But it still has this young approach, and that's a good thing.
Q: This was a concept car only three years ago, so what did you take from the reaction back then into the car we see today?
A: I think we have kept the whole essence and flow of that concept car. The proportions were amazing – huge wheels, a really fast design with a compact cabin. Lots of sculpted panels and body styling – and we tried to translate this for the production car.
Q: The T-Roc is very stylish yet very practical, and it comes loaded with technology, too. How did you manage to achieve all of those things?
A: At Volkswagen we are experts at that. We know how to mix emotion and function at a really nice level. If you look at the headlights, you have good technology and loads of functionality – but despite this we have reduced the height of them to create a really nice figure at the front. It has lots of impact.
Q: What are your favourite details on the new T-Roc?
A: We have achieved everything we wanted – especially on the front. We always had to have this upright and bold character with a big grille, really slick headlights – it's quite a statement exterior. You also have the iconic daytime running lights. I think we've got everything we wanted.
Q: What about the interior?
A: We did the same with the interior as we did with the exterior. Especially the upper band of the dashboard – this really emphasises the width of the interior. The colourful upper mask gives it lots of character, and we have the cluster integrated with the screen – it gives a lot of width as well. It's pretty dramatic. It's really young and really fresh.
Q: Are you proud of how the interior and exterior complement each other?
A: It's one product. You cannot just do an exterior that doesn't fit the interior – or the other way round. That's why we talk with the interior guys; it's teamwork.
Q: How does the T-Roc compare with other models in the Volkswagen range?
A: It's a bold car, but every car has its own character, its own personality. The T-Roc has its own compact cabin, fast shape, really low belt line. It's different from the Tiguan, for instance. The Tiguan has a three-window design; it's a bit more upright. The Touareg is something else. The T-Roc is the youngest one. It had to be the most agile one. This is how we start – they have to have their own character.
Q: There are lots of customisation colours and trims. Which are your favourite options?
A: I really love the combination of black roof and orange paintwork. I think it's a really amazing look.
Q: Finally, can you sum up the T-Roc from a design point of view?
A: The T-Roc is a car for everywhere. You can take it to the jungle, you can take it to the city. You can drive it alone or with your family. It's really functional – it's a true lifestyle product.
Best new car deals 2022: this week's top car offers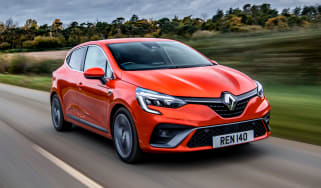 Best new car deals 2022: this week's top car offers
New electric MG4 hatch to start at £25,995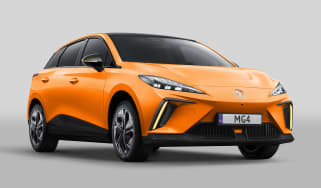 New electric MG4 hatch to start at £25,995
Kia EV4 SUV to take on the Volvo XC40 Recharge
Kia EV4 SUV to take on the Volvo XC40 Recharge