The Volkswagen Arteon: tech secrets revealed
Cutting-edge technology to make driving easier, safer and more enjoyable is at the heart of the Volkswagen Arteon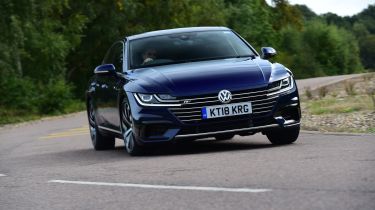 Technology is part of everyday life these days, but it can often frustrate as much as it helps. That's why you need the technology in your car to be as user-friendly and straightforward as possible, while remaining useful and right up-to-date.
The Volkswagen Arteon does this by placing a raft of information and functions right at your fingertips, without overwhelming or confusing you at the wheel. From the driver's seat, the first thing you'll notice is the Active Info Display, located where you might expect to find an analogue speedometer and other dials.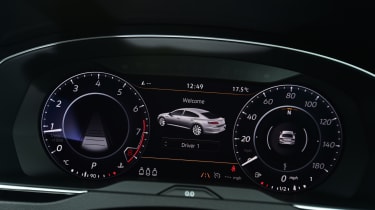 This multifunction screen can be customised to show exactly the information you need at all times, whether that's your current speed, directions to your destination, your current radio station and lots more. And this can be operated from intuitive controls on the steering wheel, so there's no need to take your hands off the wheel.
And for even more immediate information, the optional Head-up Display puts vital information right in your line of sight, reminding you of your current speed and the prevailing limit, as well as ensuring you don't miss your turn – all without having to take your eyes from the road.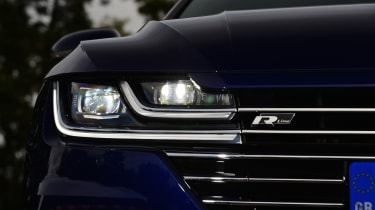 Also ensuring you don't miss anything on the move are the Arteon's innovative lighting systems. Dynamic Light Assist comes as standard, optimising illumination of the road ahead by automatically controlling the headlights' main beams. Predictive Dynamic Cornering Lighting is also standard, lighting up corners in the road before you've even started to turn the wheel.
Elsewhere, the Arteon's suite of connectivity features takes care of many tasks that could otherwise be a headache. Car-Net App-Connect lets you operate your smartphone's most important functions from the car's centre console and is compatible with both Apple and Android models, while Car-Net Security & Service keeps you informed when maintenance is due on the car and can quickly put you in contact with the emergency services if necessary.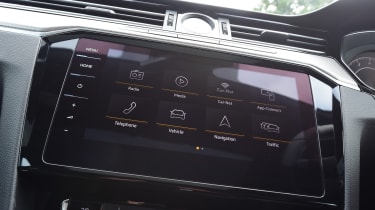 Listening to music or radio programming on the move becomes a heightened experience with the Arteon's optional Dynaudio stereo upgrade. This Danish brand supplies speakers to high-end music studios and has developed a system perfectly integrated with the Arteon's interior, for optimum sound quality on the move.
Even the boot of the Arteon incorporates technology to make your life easier. The optional easy-open function lets you open the boot with just a wave of your foot under the bumper, while the easy-close function incorporating a time-delay function lets you load and unload with ease, closing the boot again when you're done.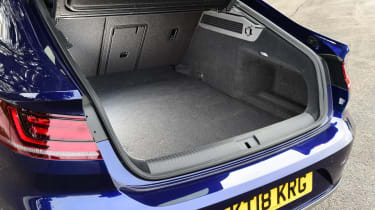 All these systems come together to help take the stress out of typical everyday journeys, so you can arrive at your destination relaxed and composed, ready for whatever's next.
Take our survey for the chance to win one of five £100 John Lewis vouchers.